Villa Peninsula

5204 SW 28th Place, Cape Coral, 33914, Florida, USA
Price: $ 3,300
Prices per week for up to 4 guests

01. Nov 2023 to 30. Apr 2024
$ 3,500.00
01. May 2024 to 31. Oct 2024
$ 3,300.00
01. Nov 2024 to 30. Apr 2025
$ 3,500.00
Extra person fee
$ 150.00
Max occupants:
10
Discount for booking of 4 weeks and more
10%

Cleaning fee
$ 455
Refundable deposit
$ 1,500
Tax
11.5%
Minimum stay Easter/Christmas:
2 weeks
Surcharge Easter/Christmas:
20 %
Electricity allowance per week:
35.00
Electricity costs per KWH:
0.18
Cleaning costs grill:
65.00
Cleaning costs griddle:
40.00
Childs:
2 Child(s) to 2 years free
Down payment:
20% from net rental amount
One gas tank per week included.
Useable for BBQ and Griddle grill
Property type:
single family
Location Features:
Sailboat Access
Number of parkings:
2 Cars
Property Description
The name Peninsula stands for the exclusive area in SW 28th Place (Peninsula Point) which is surrounded by water on both sides like a cape.
Villa Peninsula is an extravagant villa built in 2019 that makes you feel at home. The majestic view from the outside and the contemporary style inside make the house a successful and luxurious vacation retreat for the whole family.
Soft colors, high-quality materials, modern furnishings, spaciousness and tranquility make your vacation a pleasure.
This exceptional property was built on an oversized lot. The house faces west so you can enjoy the sun until the sunset. The special design of the house allows you to have sun on your pool chaises also in the morning hours.
The spectacular observation deck (3rd floor) was designed with a roof and completely enclosed by a screen (mosquito protection) to enjoy the fantastic view over Cape Coral, the nature preserves and the unique Florida sunsets.
The house is modern, luxury, flooded with light and has everything you need for a comfortable vacation. The majestic open living area and the oversized terrace area are places to relax and enjoy. An elevator is also available.
Living area:
The open living area with 24 ft high ceilings and huge chandelier was equipped with modern designer furniture. Tasteful accessories, pictures and a fire feature (not heatable) complement the luxurious ambience.
Kitchen:
The open and modern kitchen was specially designed for this house and is fully equipped to master a perfect dinner.
Bedroom:
All bedrooms were individually designed in different colors and with high-quality bed linen from Z Gallerie. The pictures and accessories have also been adapted to the colors. Each bedroom has its own bathroom with rain shower.
Master suite 1 with king-size bed (1st floor) This large and elegant suite has direct access to the pool and is an ideal retreat to relax. The bed was aligned with a view to the Spreader Canal.
Master suite 2 with king-size bed (2nd floor) from this large suite with private bathroom you have fantastic views to the spreader canal and the mangroves.
Guest room 1 with king-size bed (2nd floor)
Guest room 2 with king-size bed (2nd floor)
Guest room 3 with king-size bed (2nd floor)
Bathroom:
The two master bedrooms have their own large bathroom with walk-in shower. The three guest bathrooms are ensuite and accessible from the bedroom. All bathrooms are equipped with high quality materials. There is also a powder bath (pool bath) on the 1st floor.
Laundry:
The functional laundry room has washing machine and a corresponding dryer. Iron and Ironing board are available.
Upstairs / Game Room:
The upper floor can be reached via a stairs or elevator. Here you have an open view of the living area and the pool and canal. There is also a game room with a billiard table and a cozy seating area with TV. From here you have access to a balcony on the front of the house, where you can drink your coffee in the morning and enjoy the sunrise. Access to the large balcony is also possible from the game room, here you will find seating to relax and enjoy.
Observation Deck:
You can reach the observation deck via the large balcony from the 2nd floor, here you can experience breathtaking sunsets or simply admire the beautiful view of the nature preserve and Cape Coral. Here you find lounge chairs and a TV.
Terraces, lanai and outdoor area:
Villa Peninsula has a screen, which is used as mosquito protection. Another effective mosquito protection is achieved by a state-of-the-art mosquito repellent system, which is harmless and has a biological effect. This system also works against the annoying "No See Ums" mosquitos that get through the mesh of the screen. These systems are already being used successfully in the large fund parks.
The outdoor area impresses with the size. Due to the west orientation of the pool area you can enjoy the sun a large part of the day or relax in the shaded lanai on the lounge furniture. The electrically heated pool with salt system (no salt film on the skin, only softer water) leaves nothing to be desired. The large covered area spoils with a summer kitchen. Here you can prepare the fresh catch directly. There is also a large TV and an electric heatable fireplace for the colder nights.
Waterfront, Dock and Tiki:
Villa Peninsula is an ideal starting point for a boat tour or a paddle tour through the many canals. You an rent a boat from us. The house offers a separate lift for rental boats.
Location of the villa:
Villa Peninsula is located in the Peninsula Point (SW 28th Place), one of the most expensive streets in the popular southwest of Cape Coral directly on the Spreader Canal. Shops and supermarkets are in the immediate vicinity. The elegant Cape Harbor Marina is easily accessible by bike or in walking distance and has shops, bars and restaurants.
Additional Information:
All rooms are equipped with large HD TV's.  W-LAN is possible everywhere, extra amplifiers were installed. A Nespresso machine is also available (please bring your own capsules). A Sonos system rounds off the background music.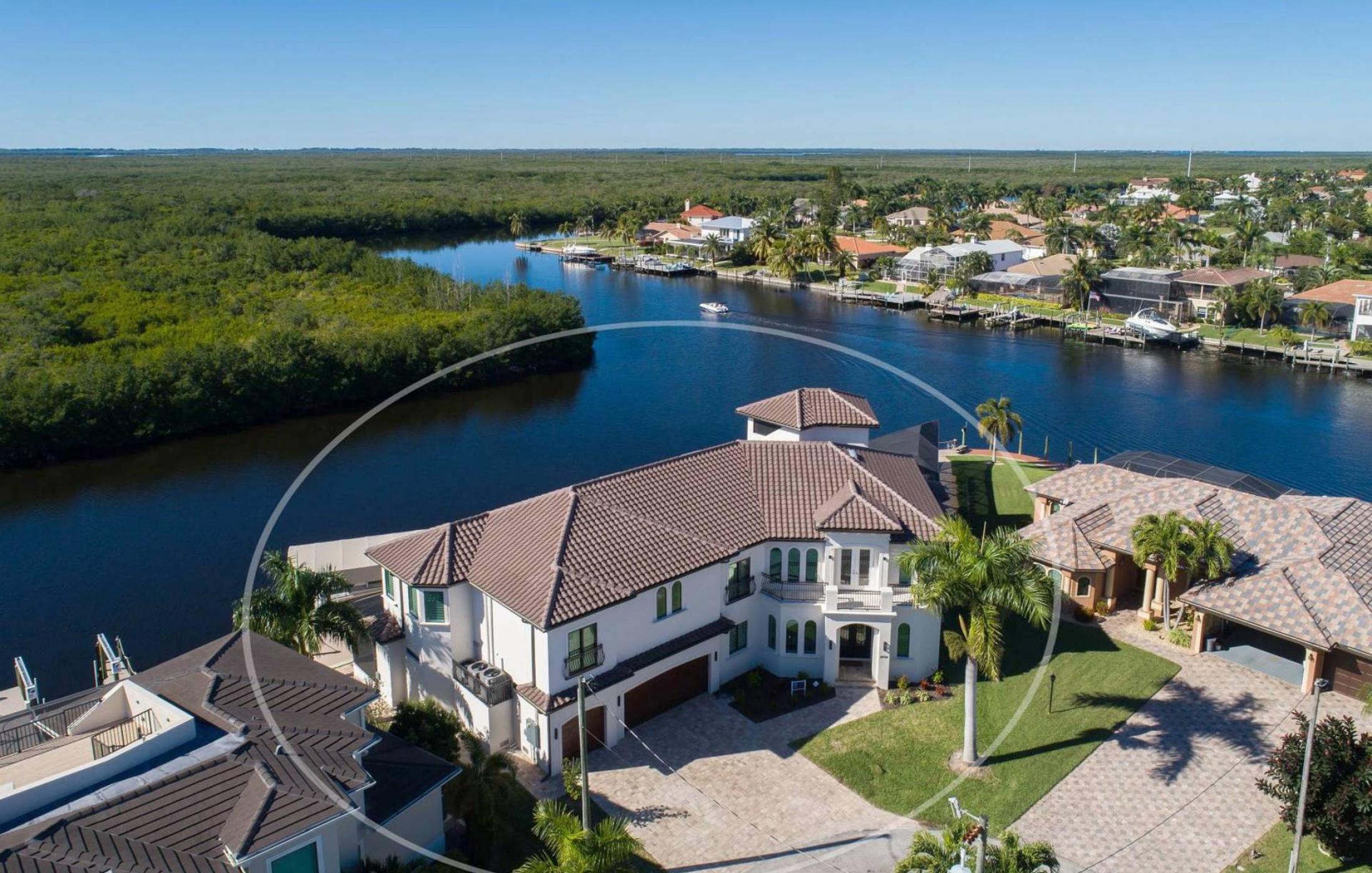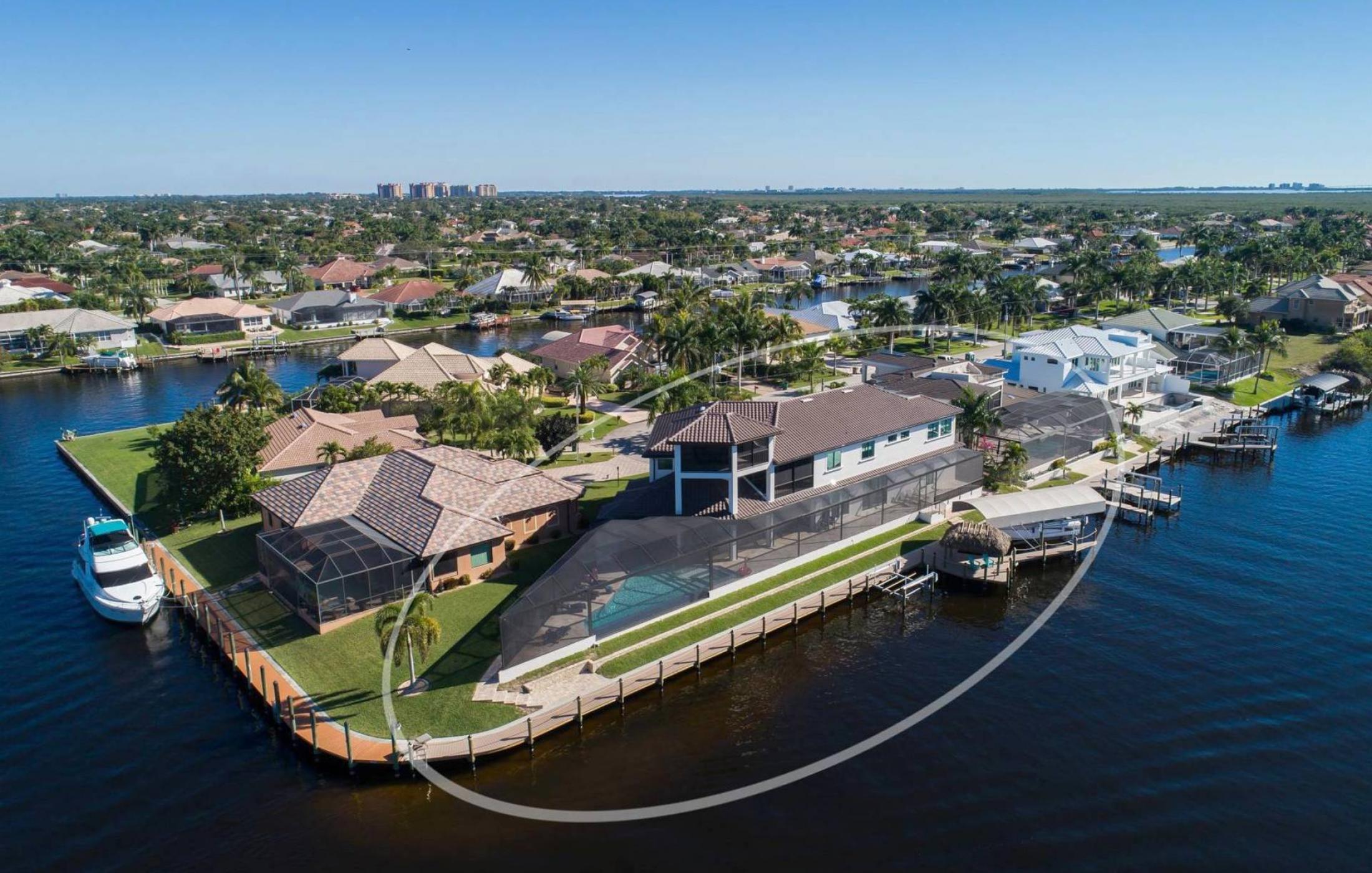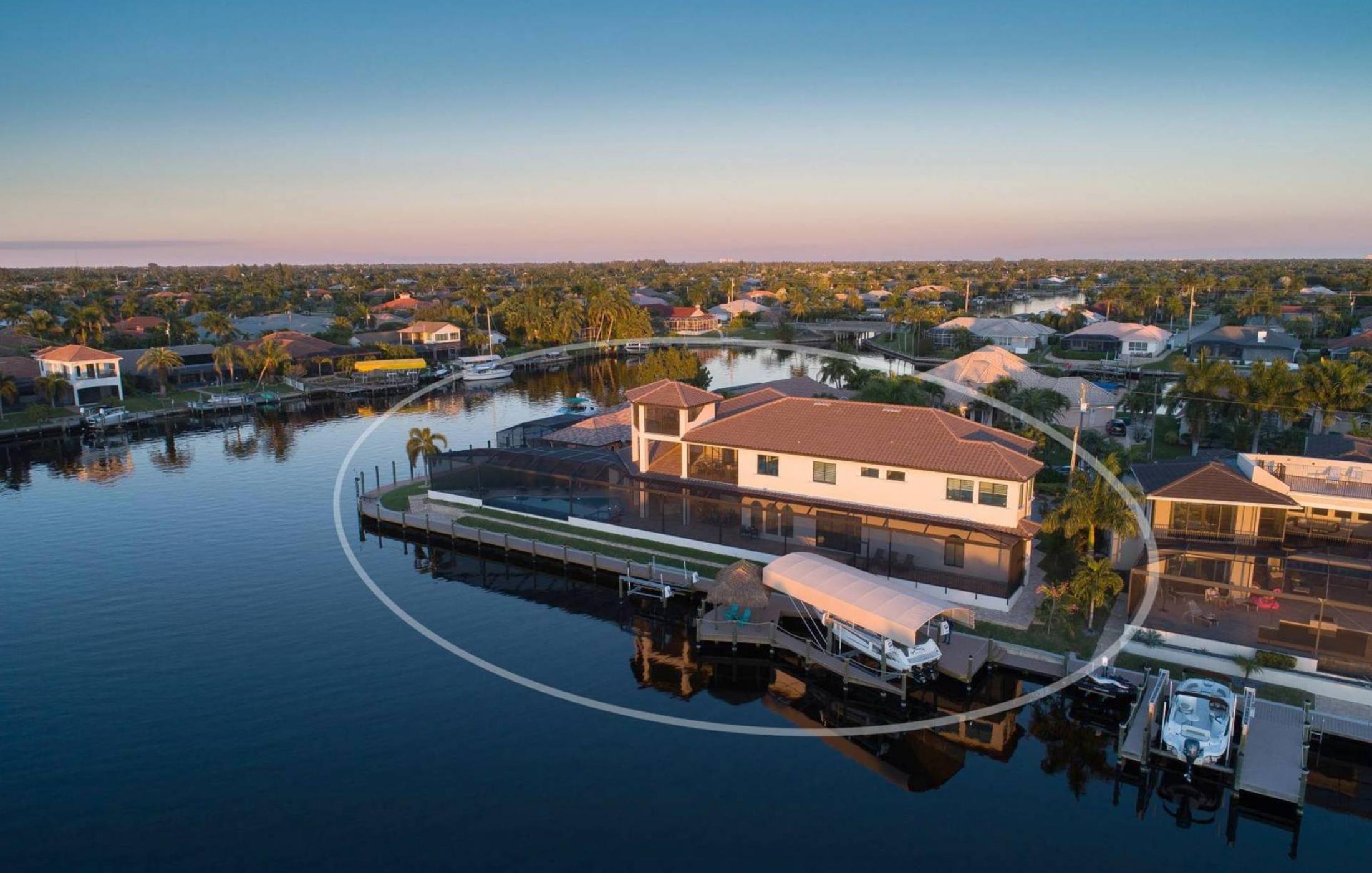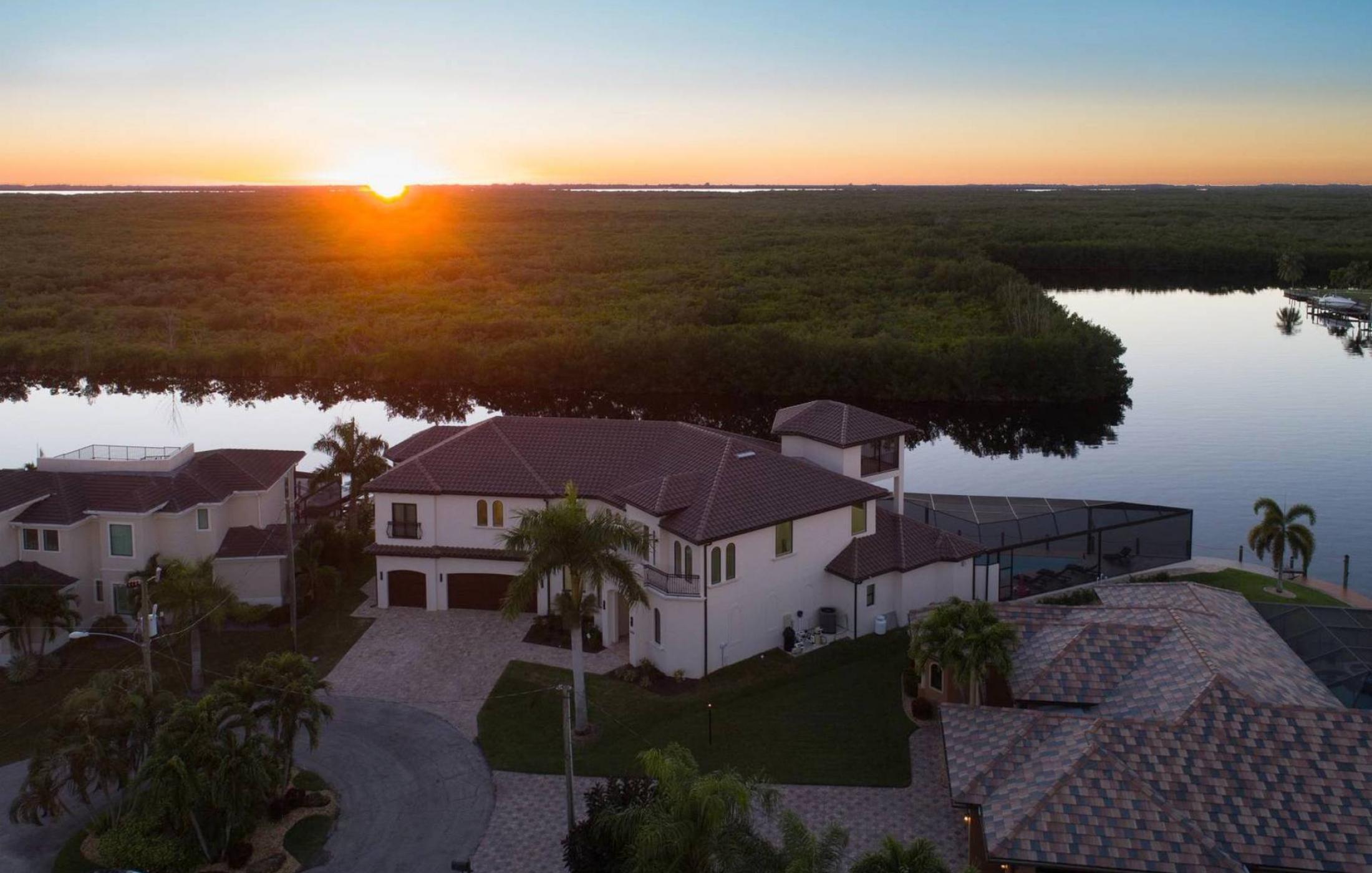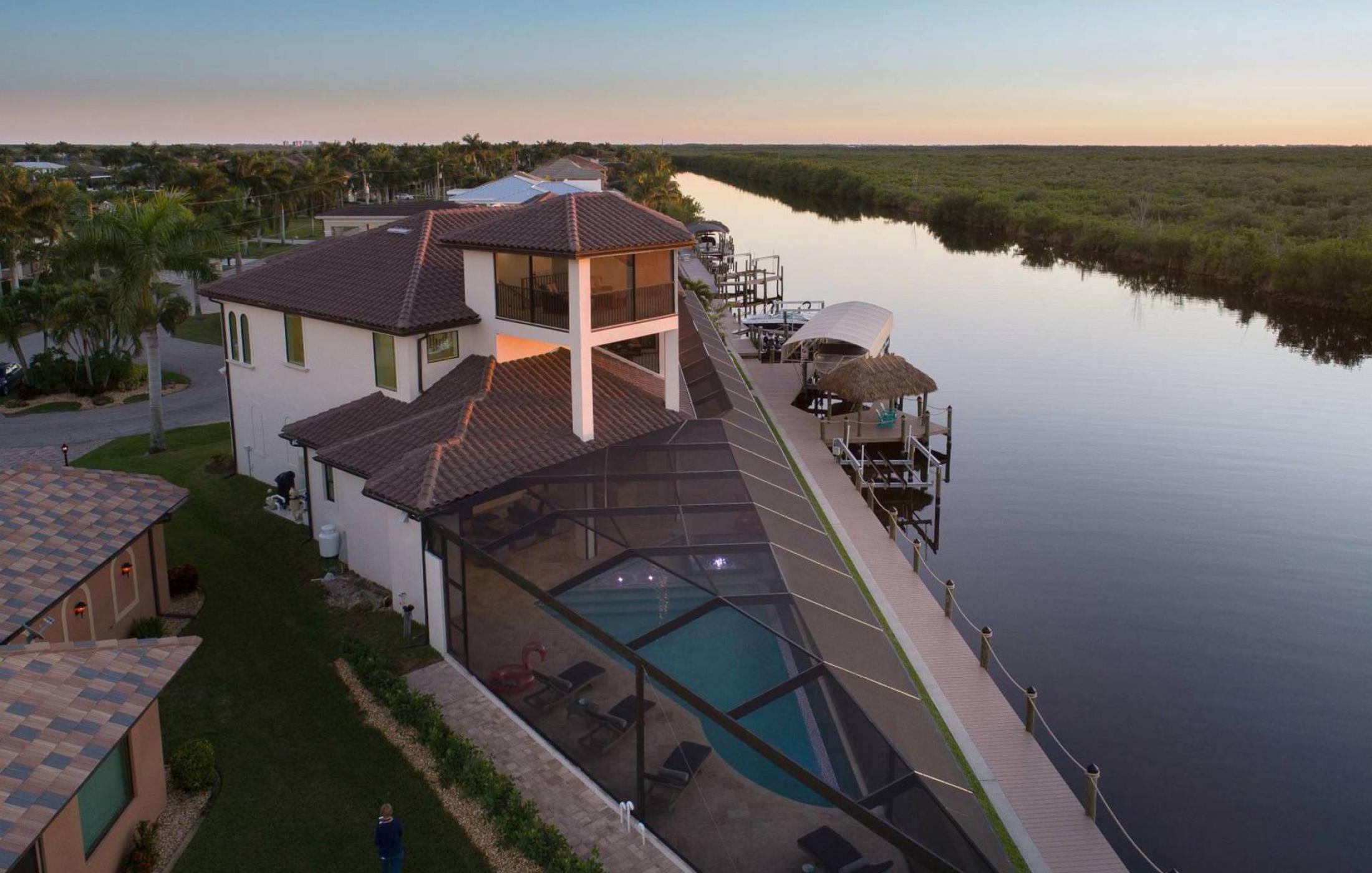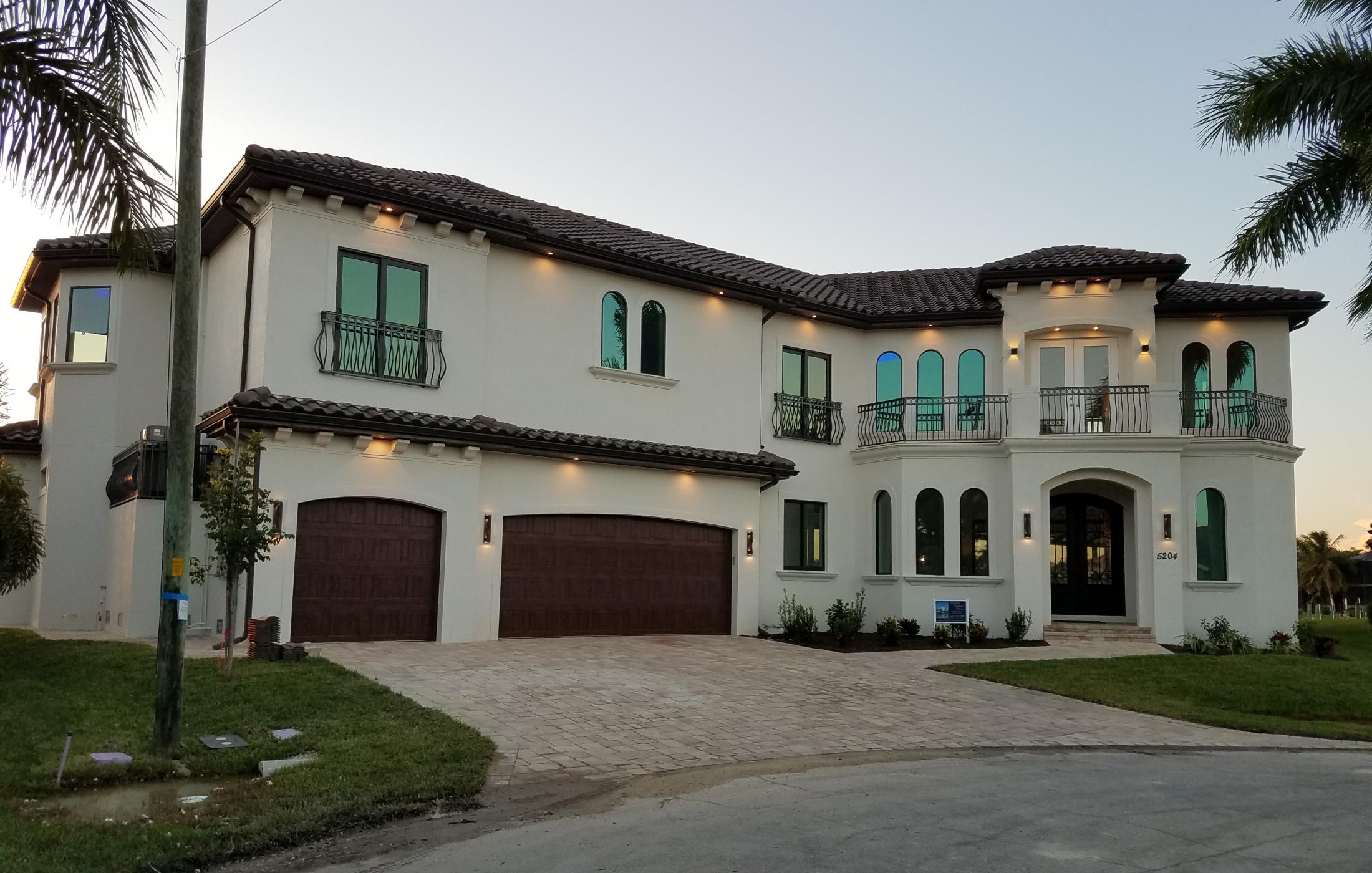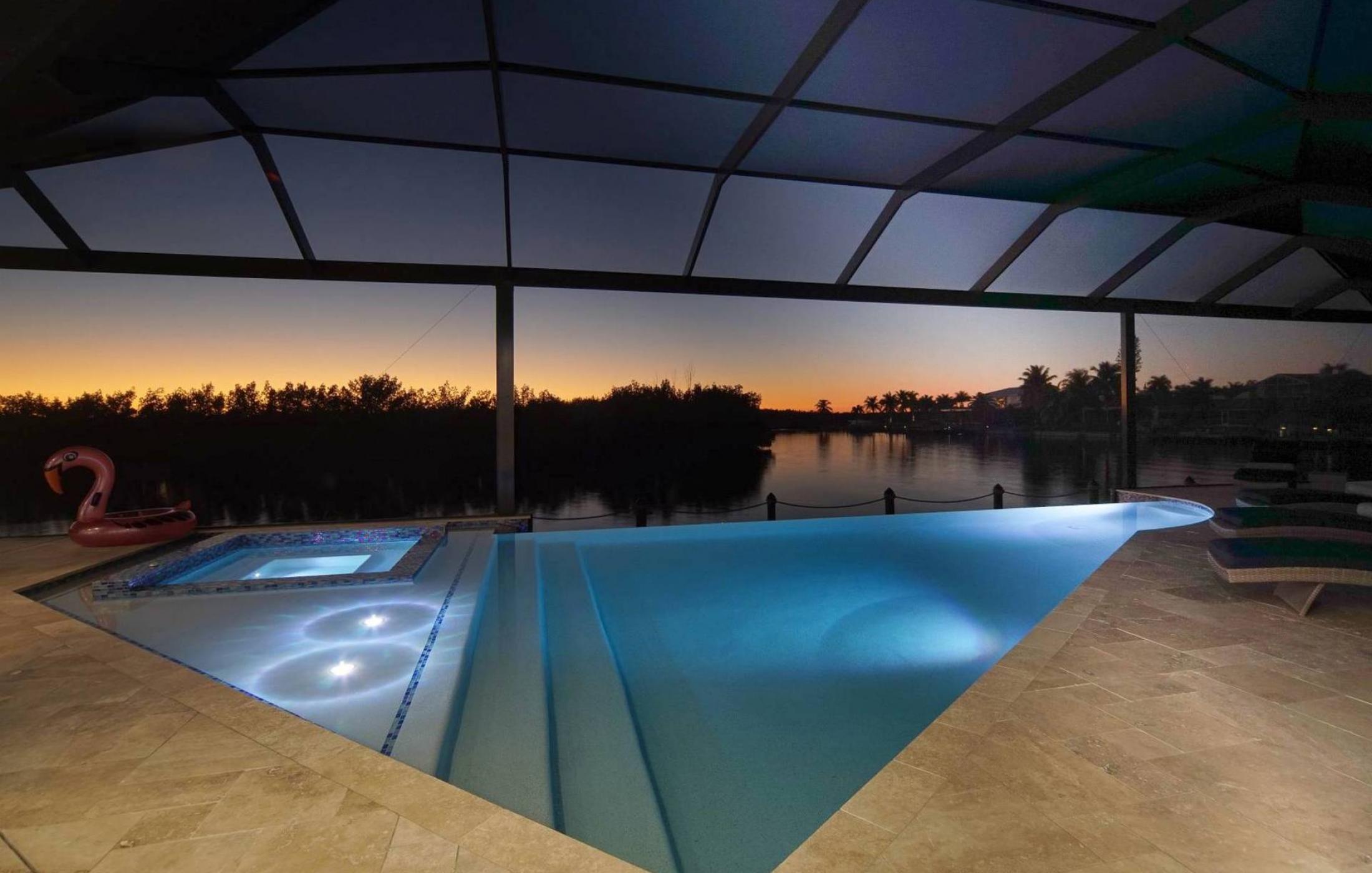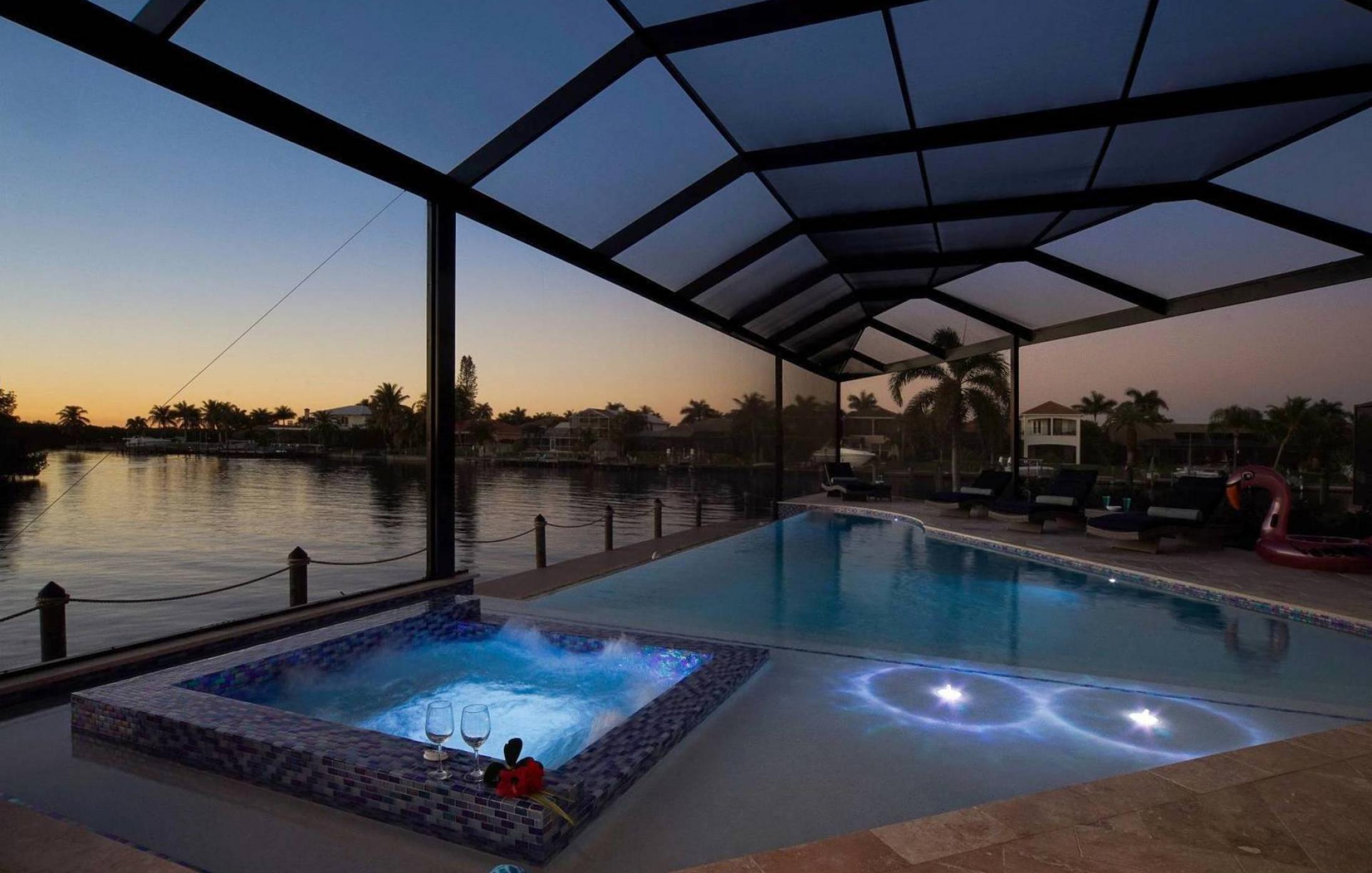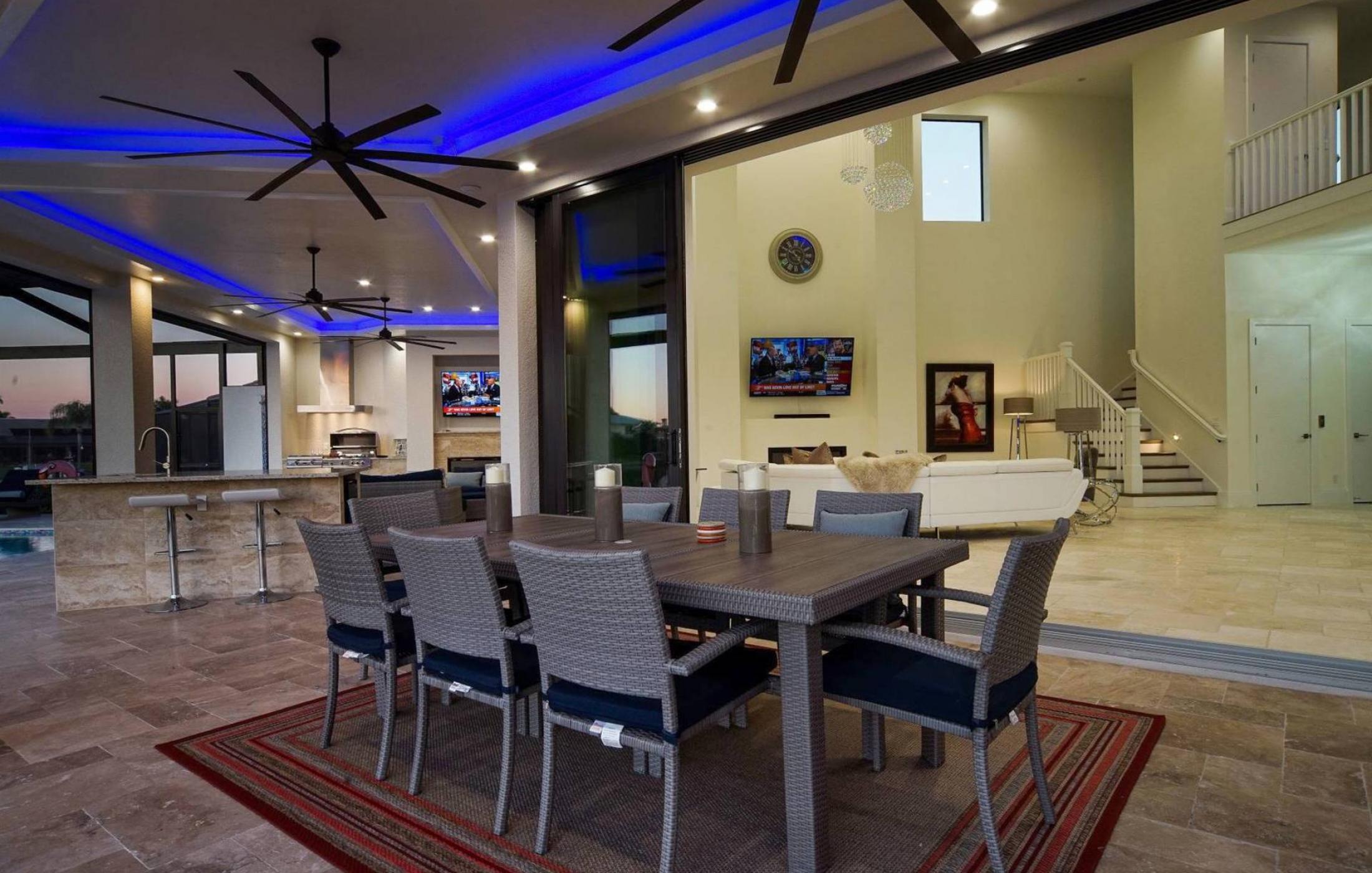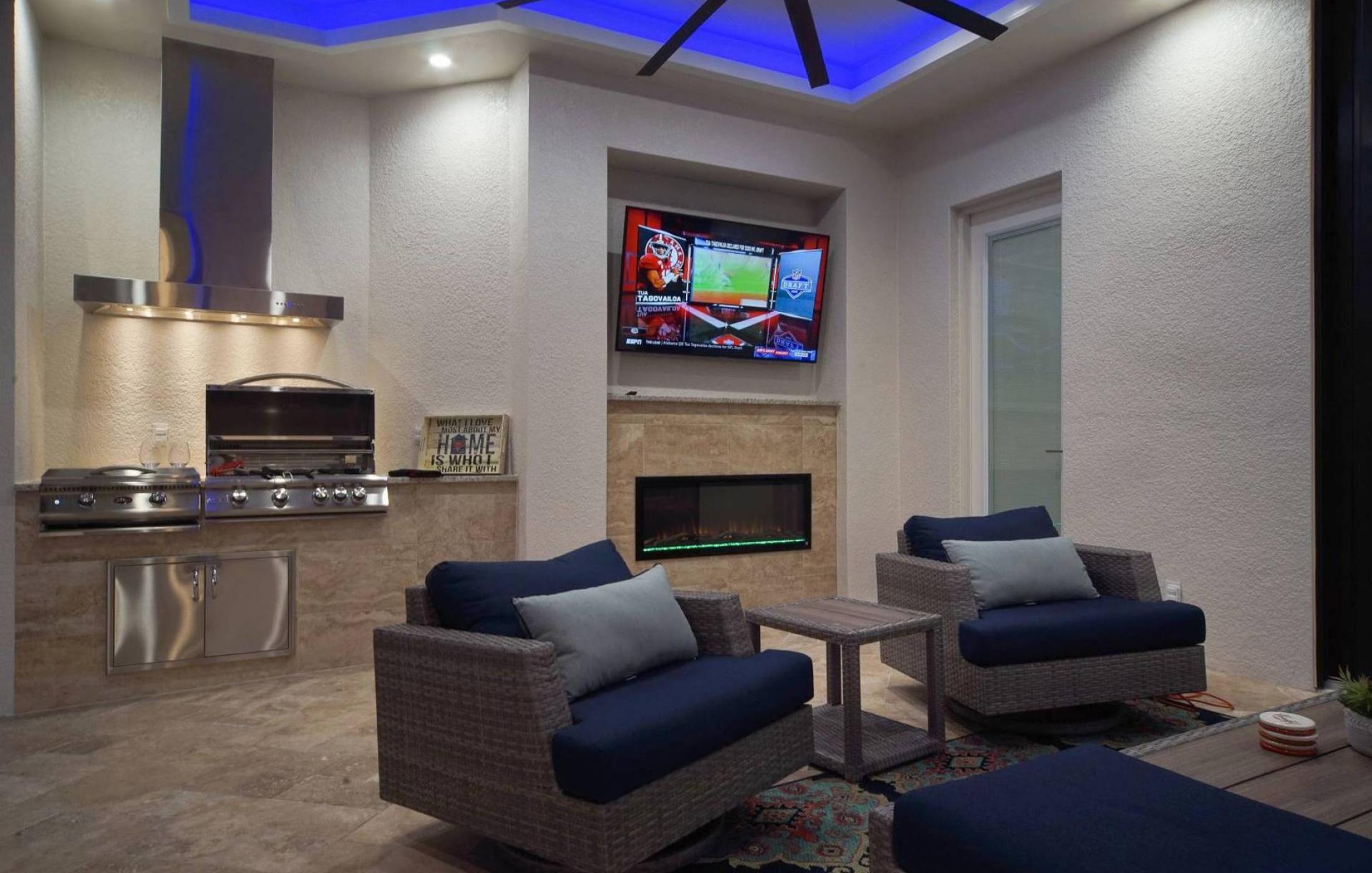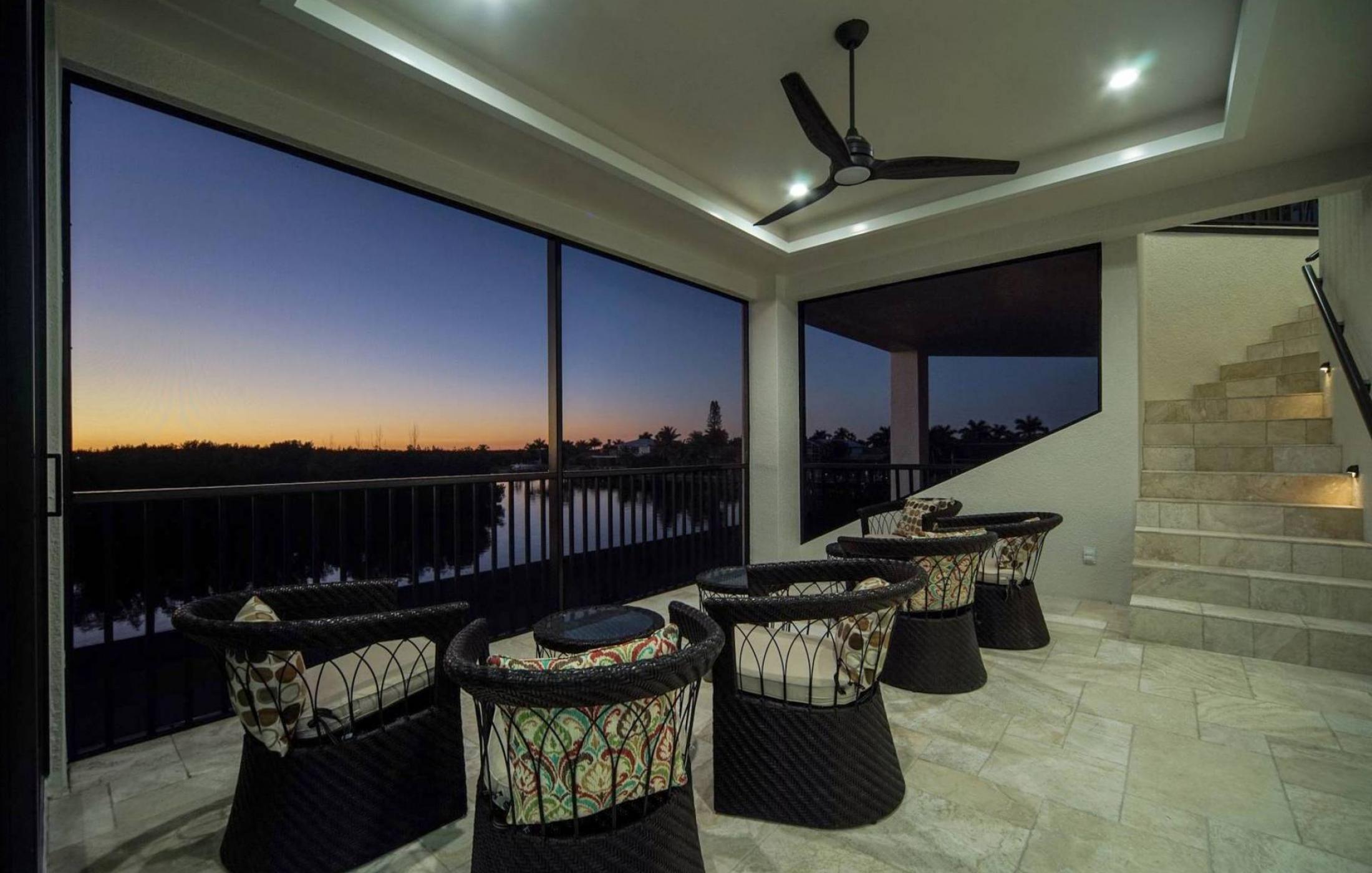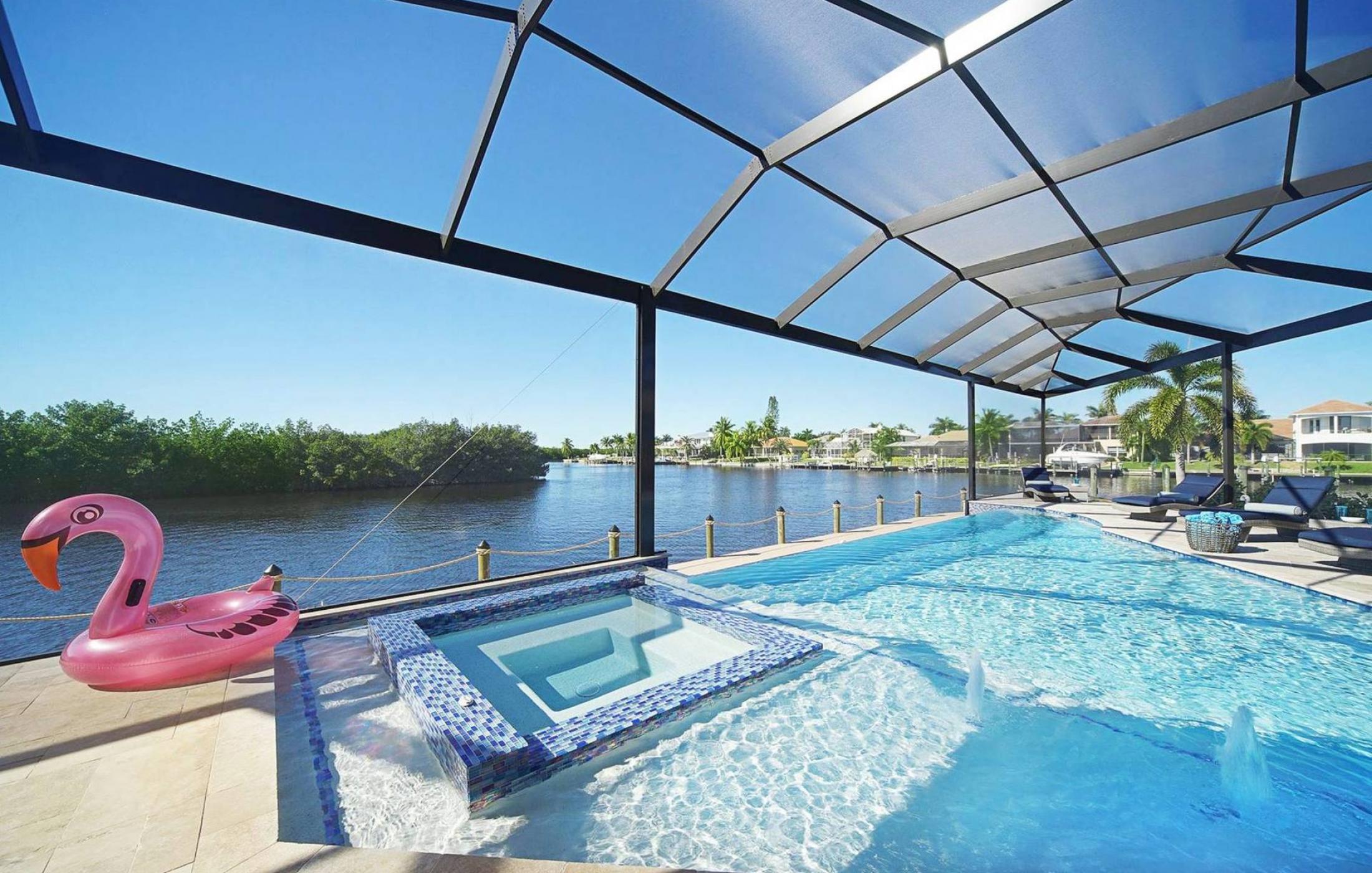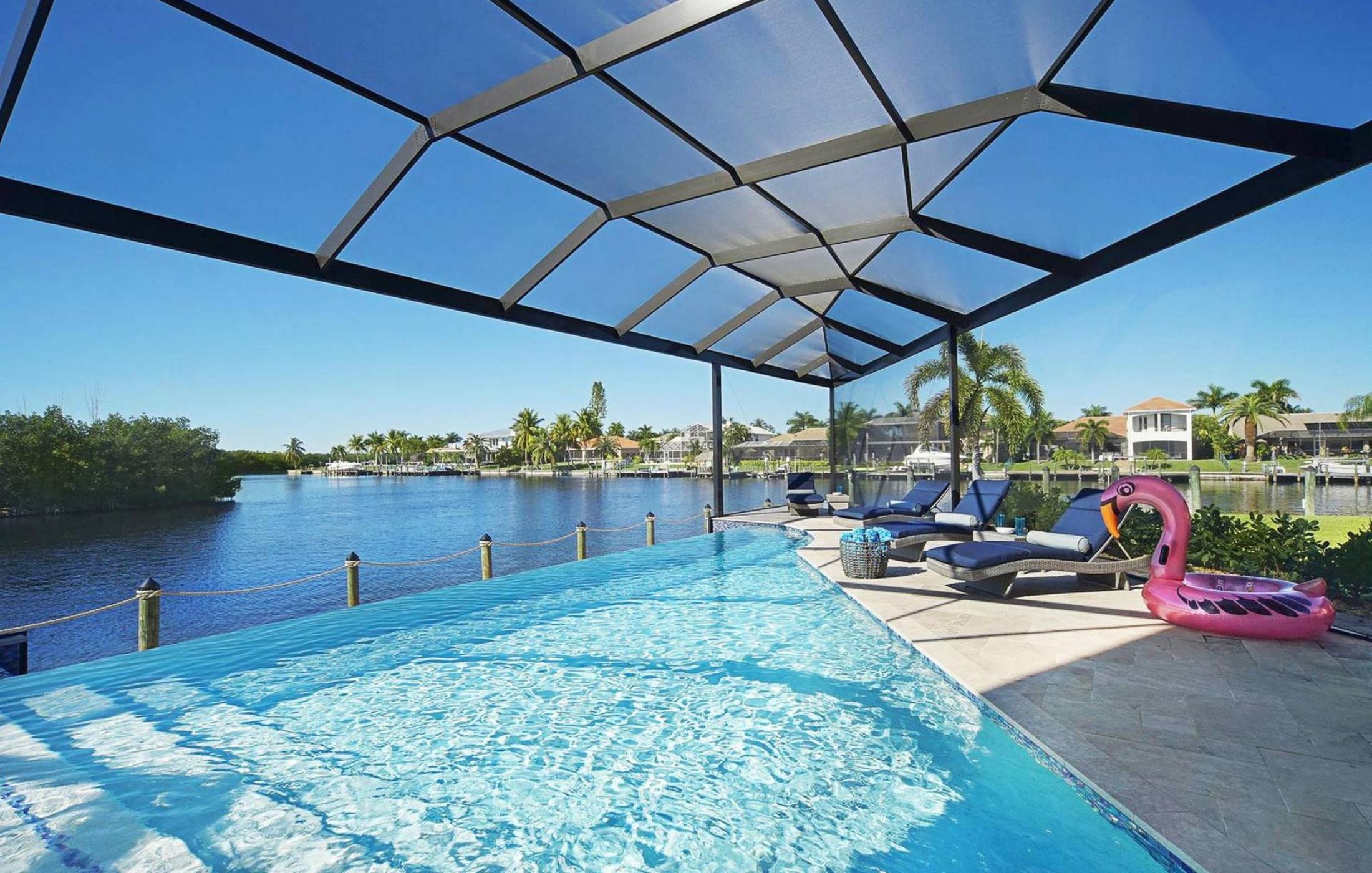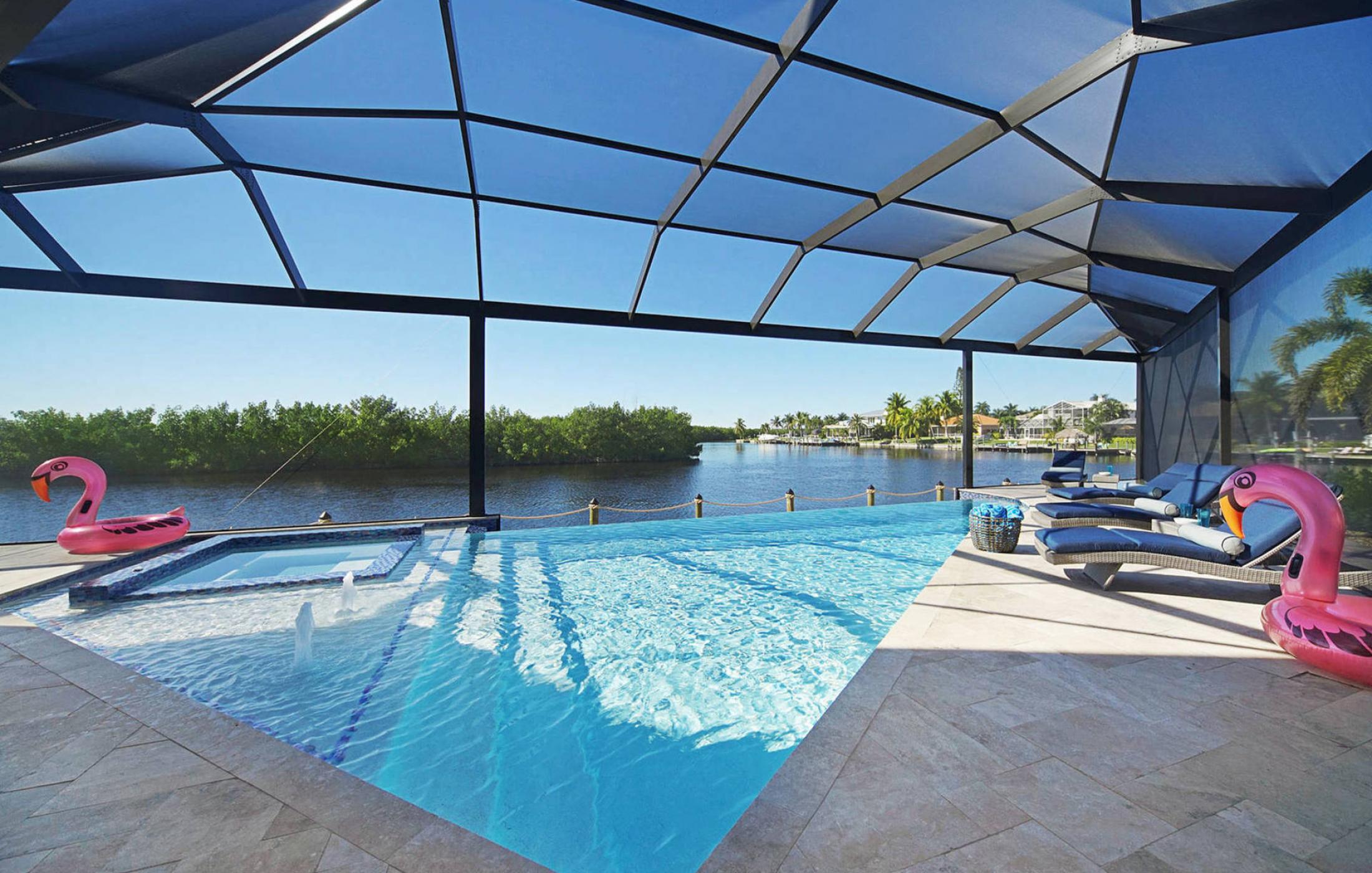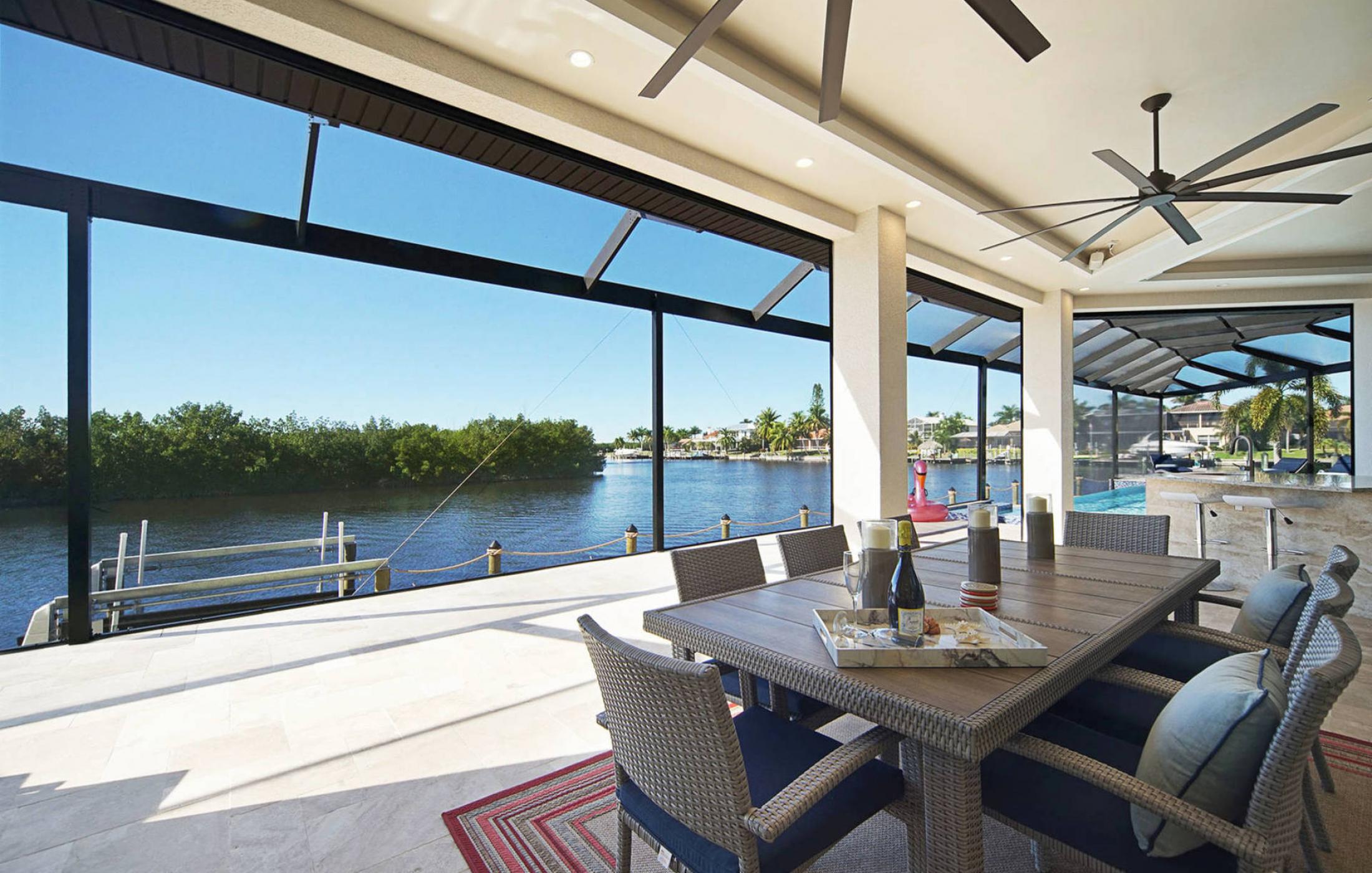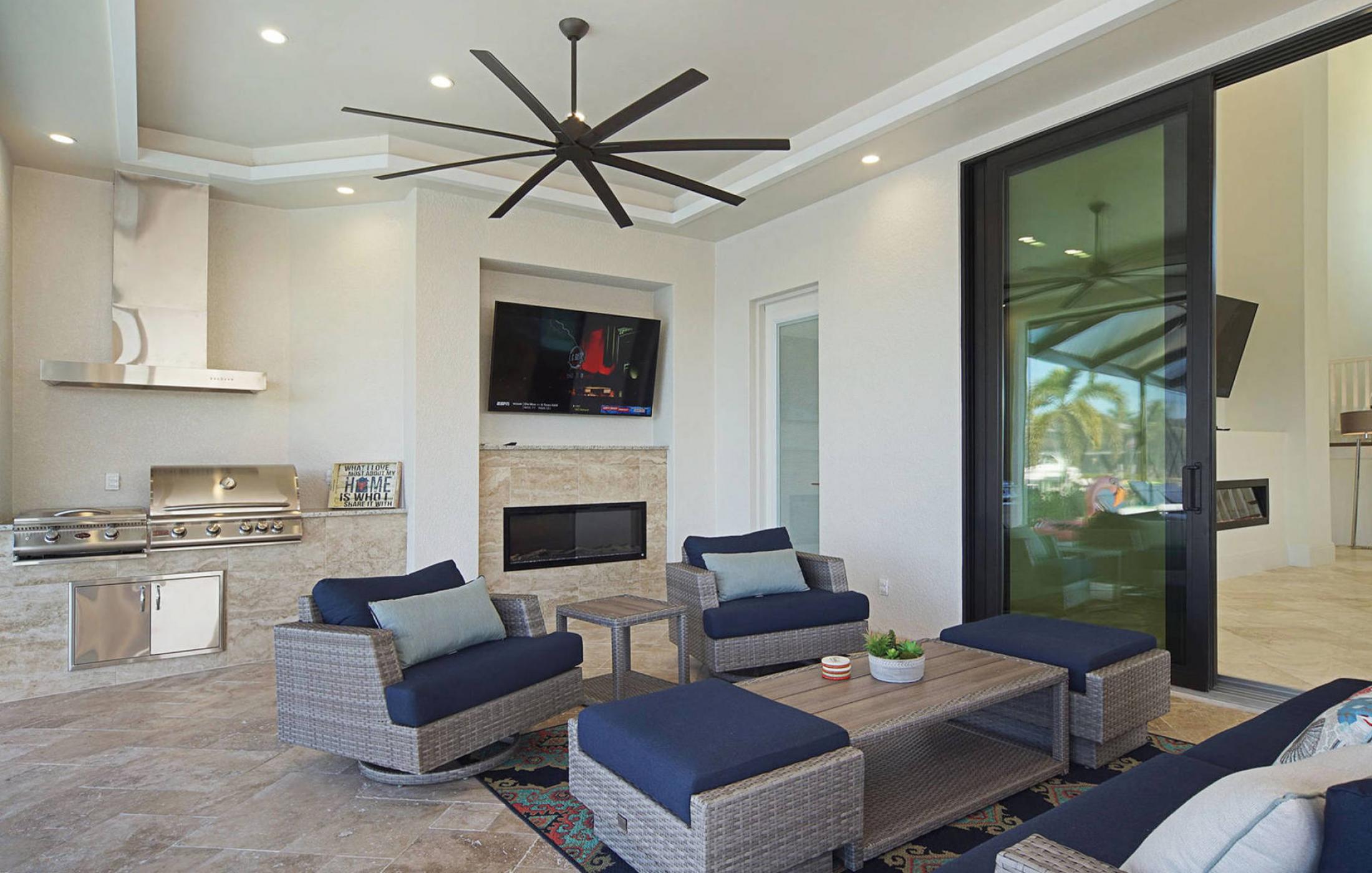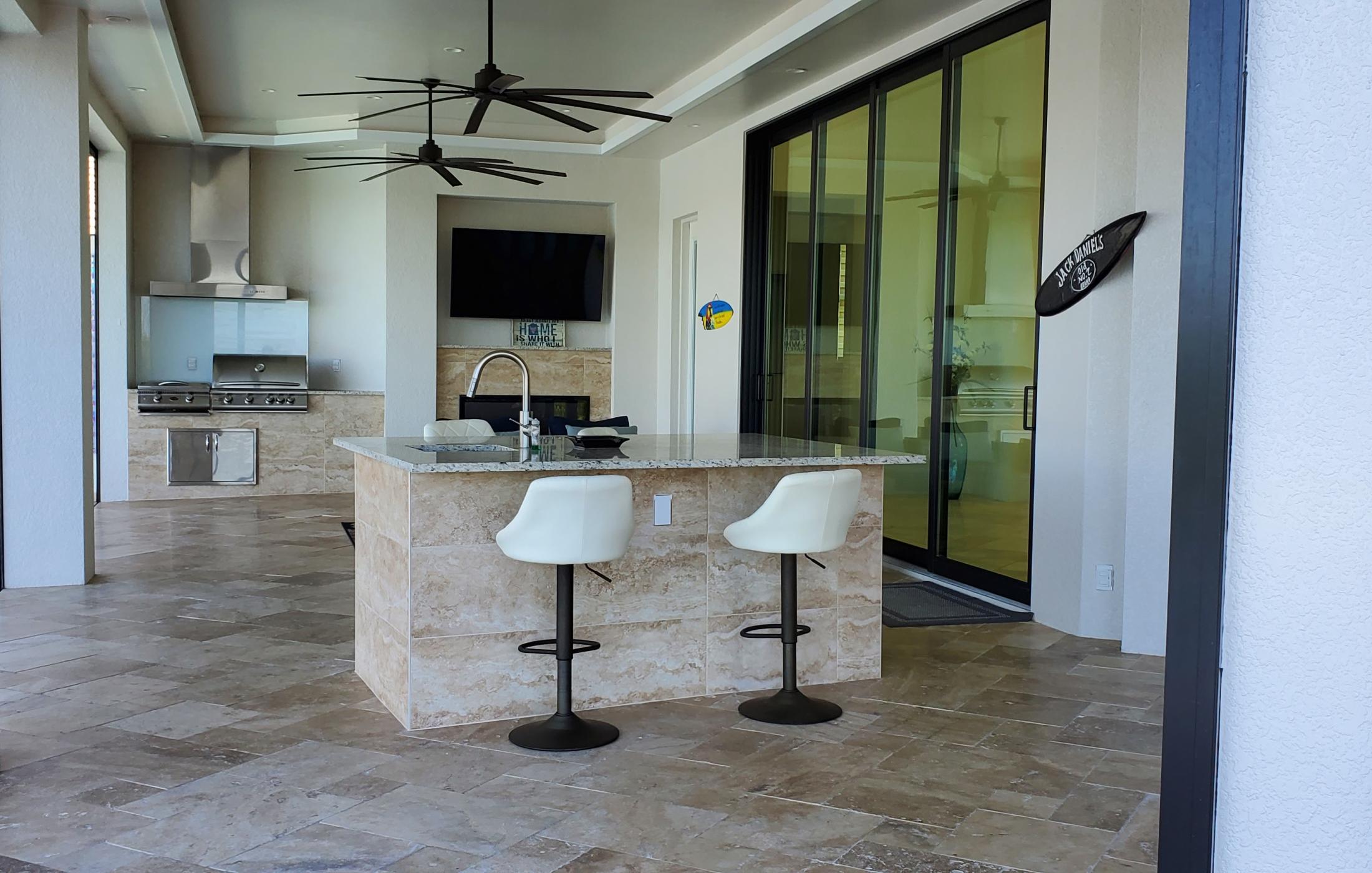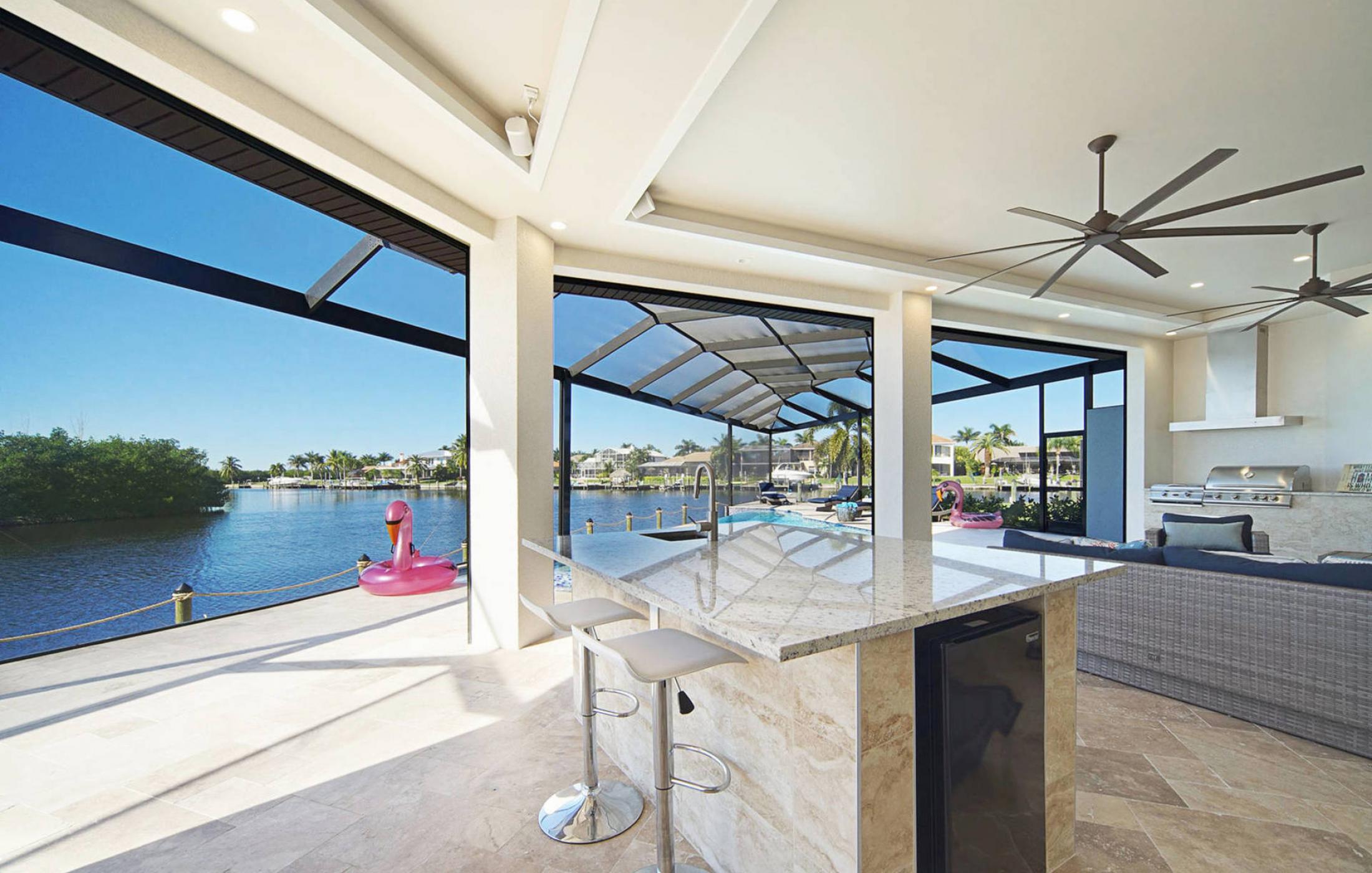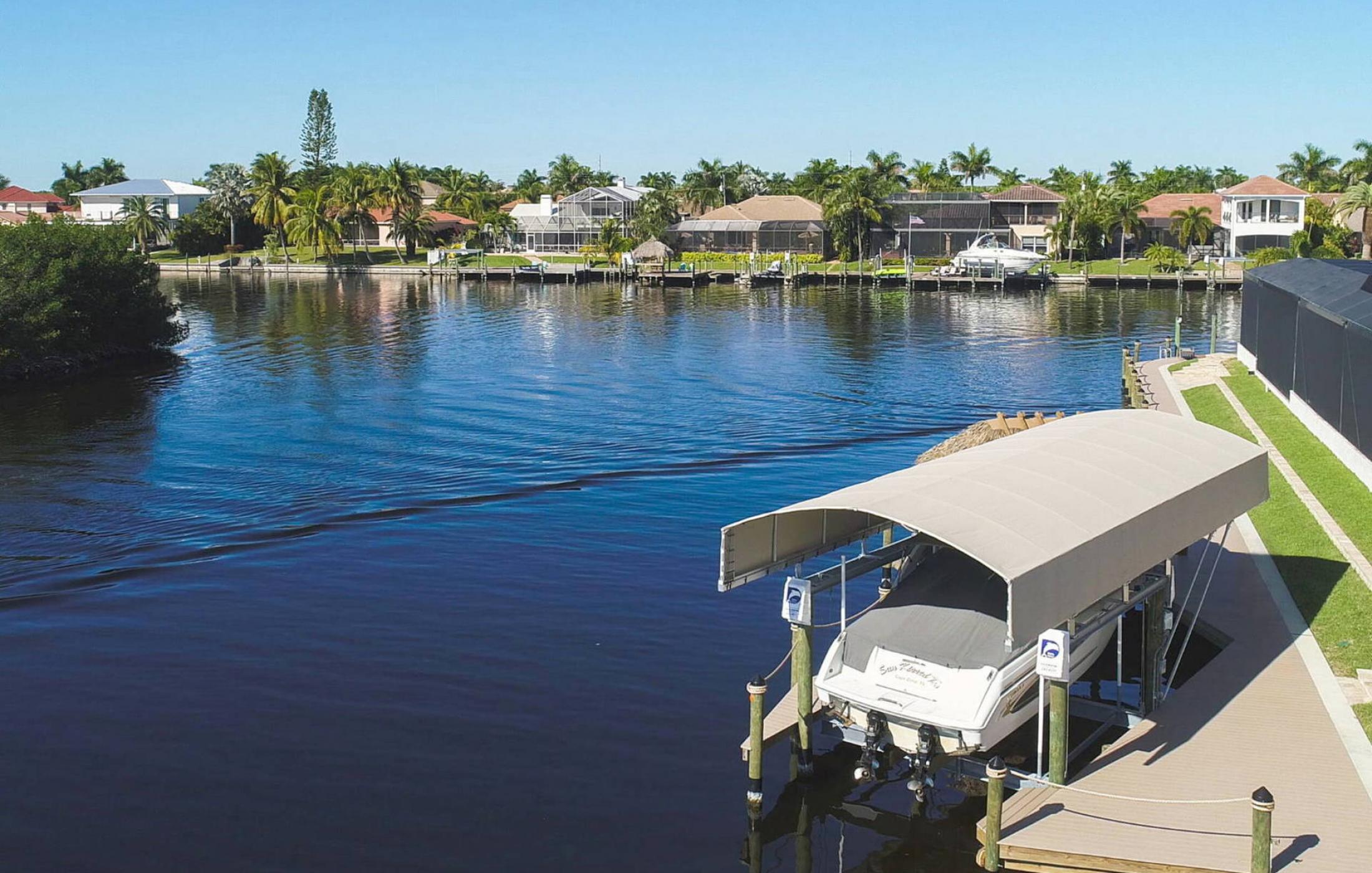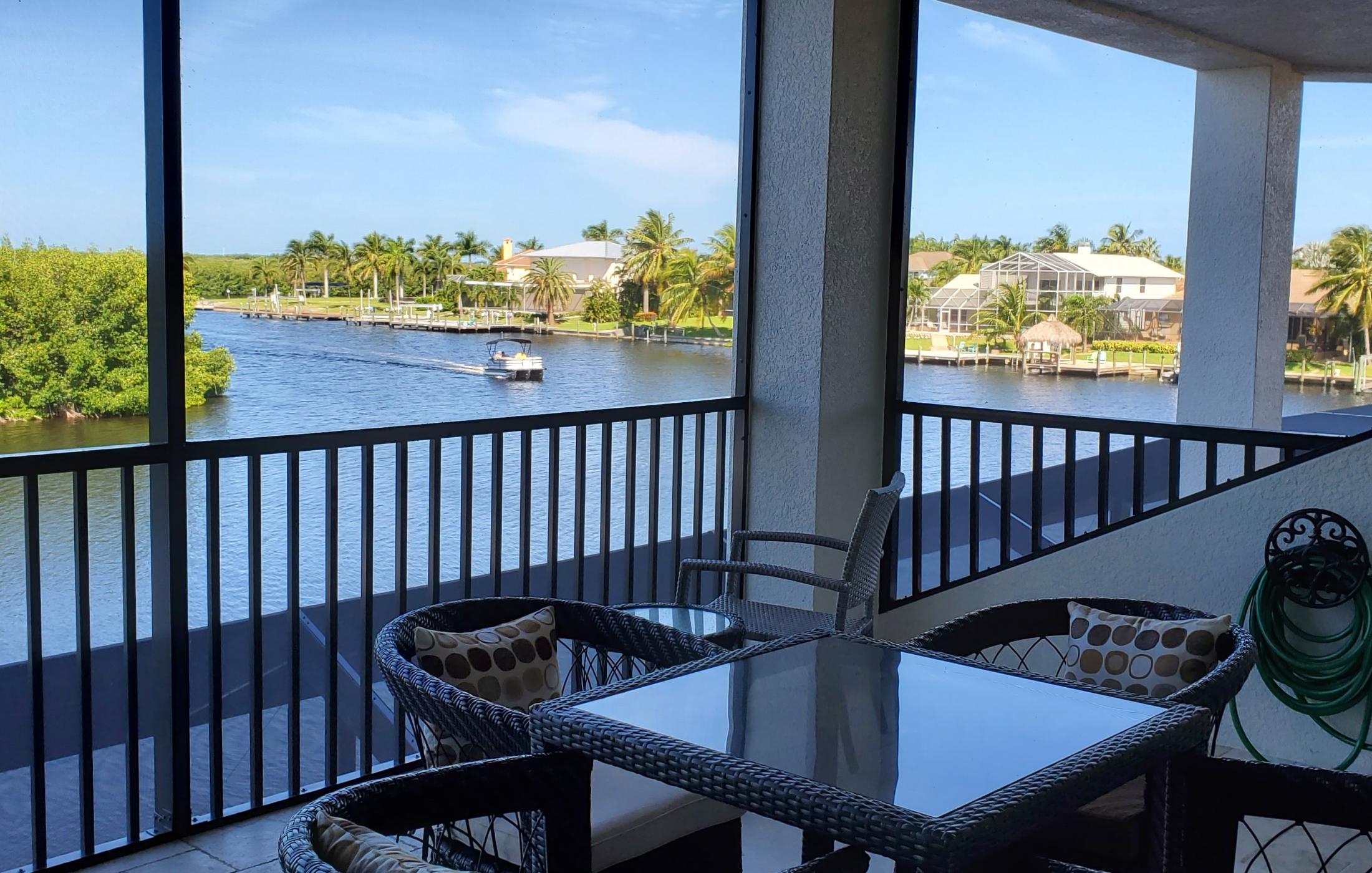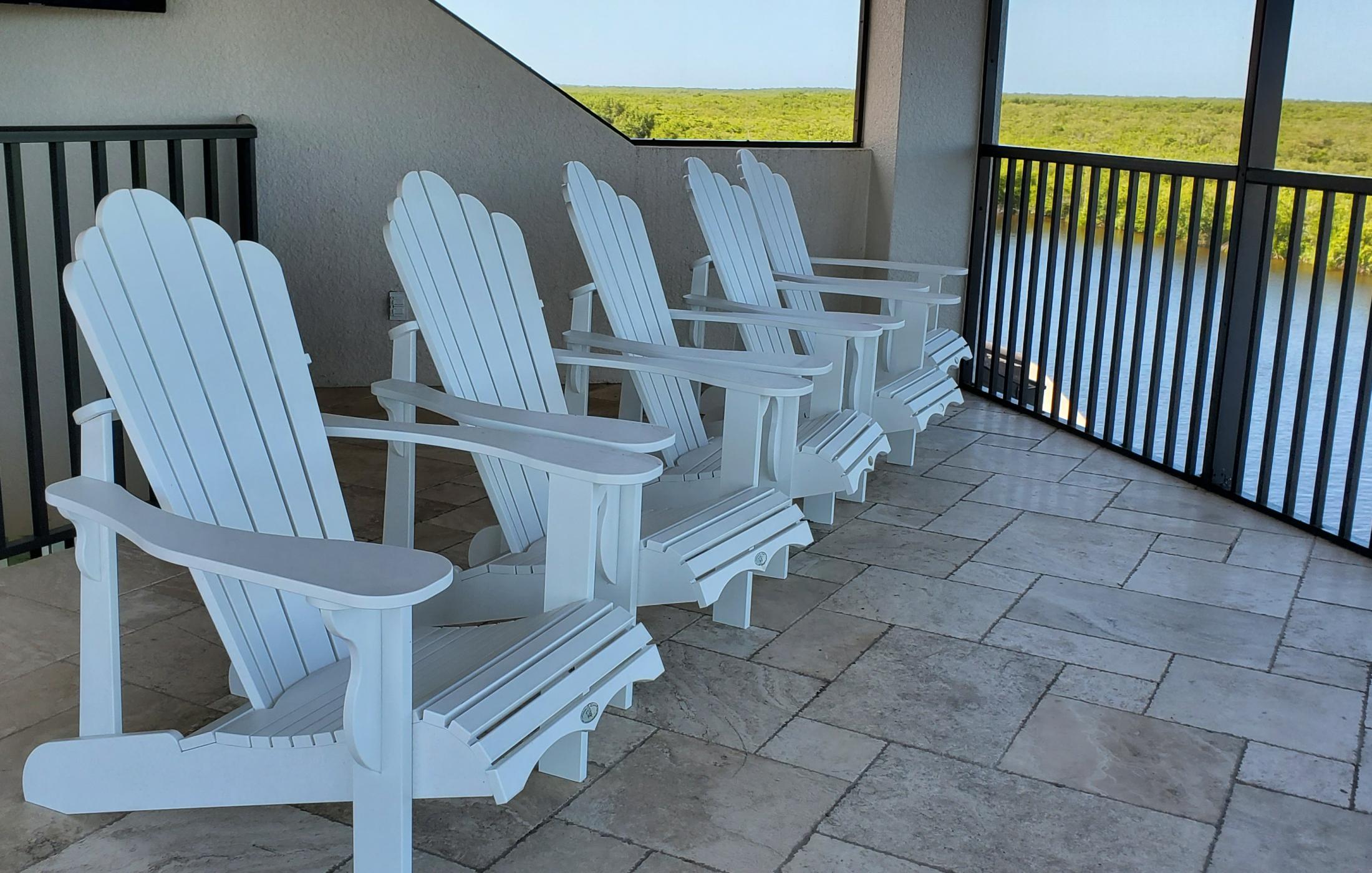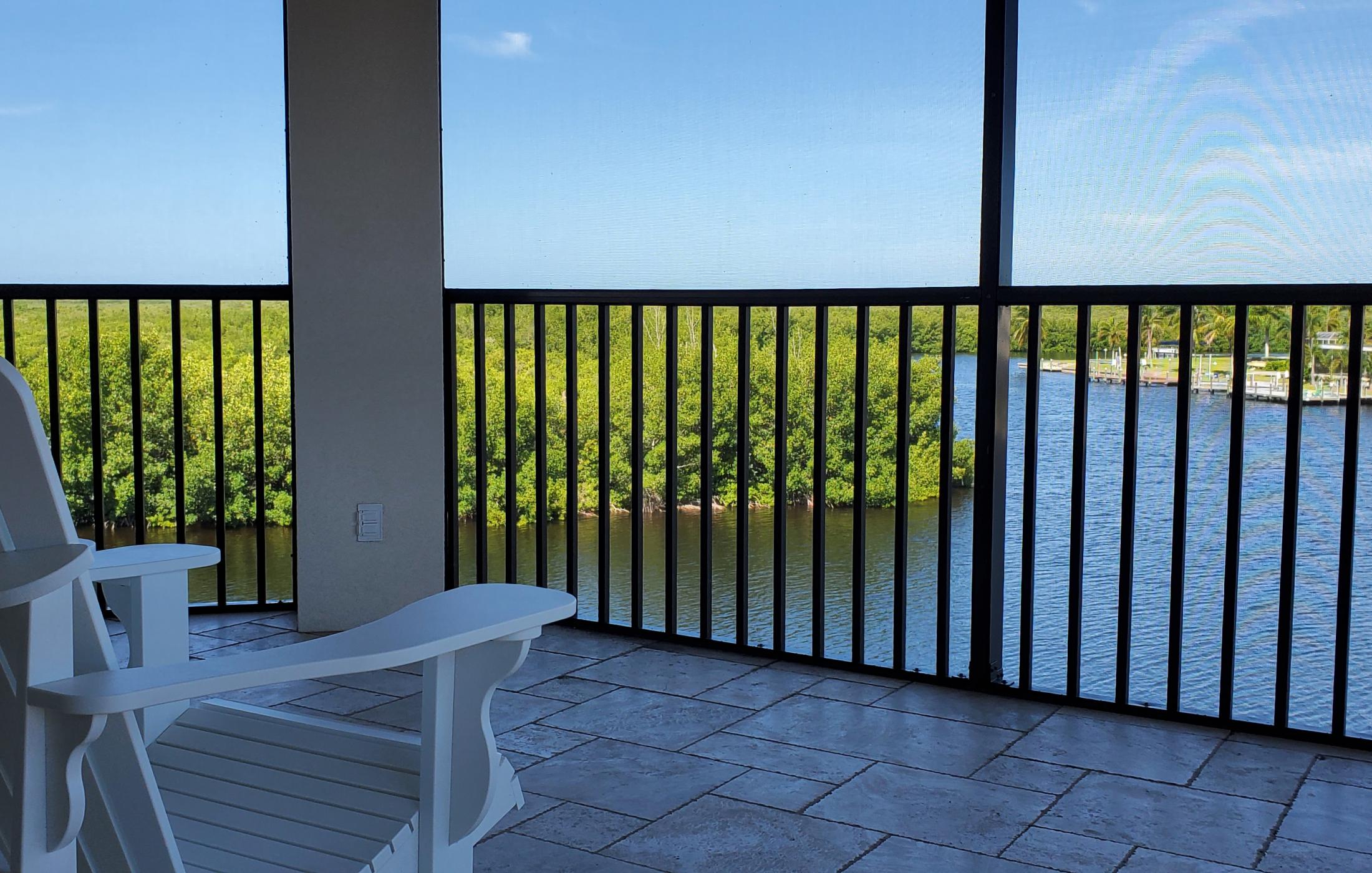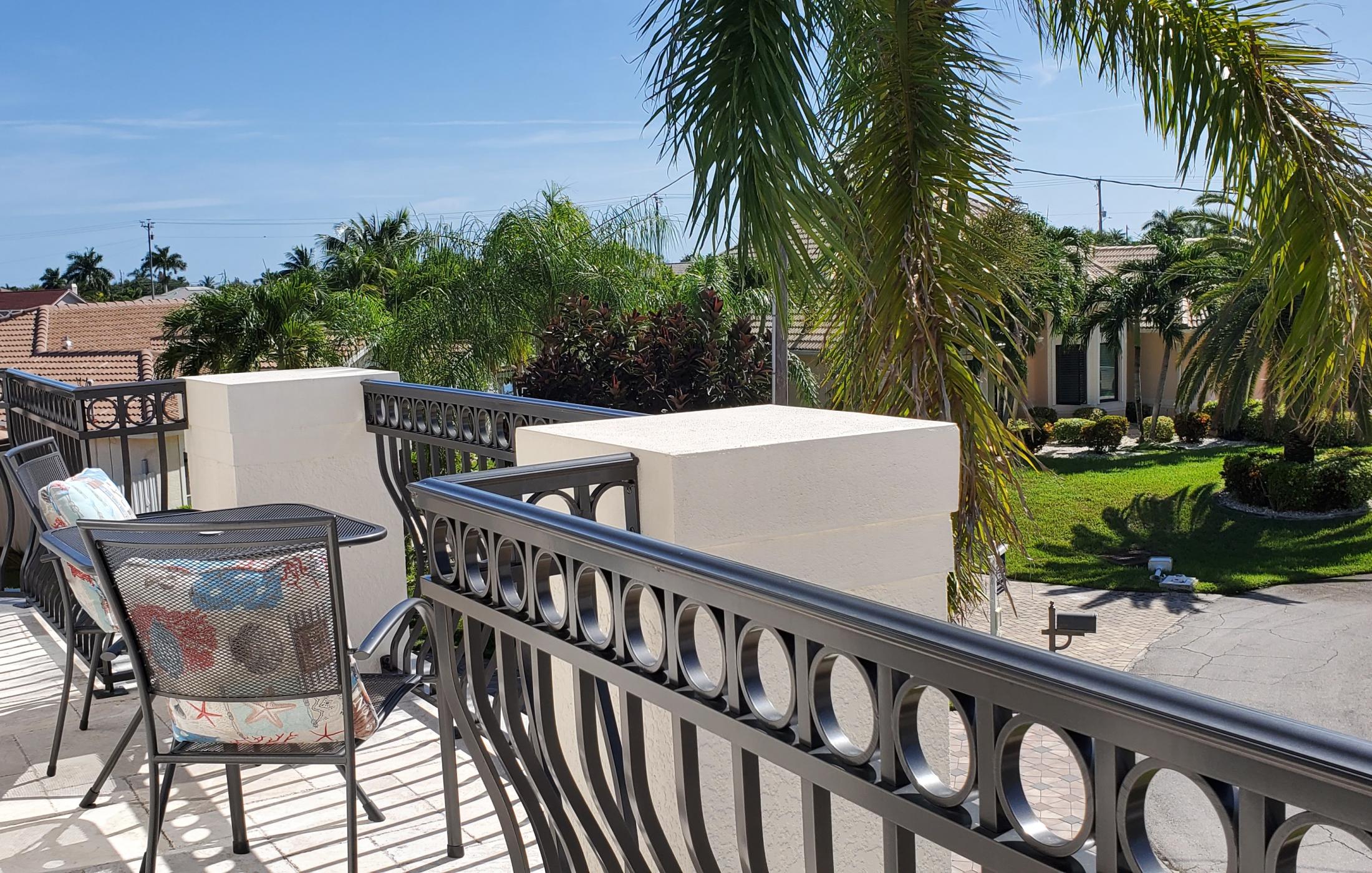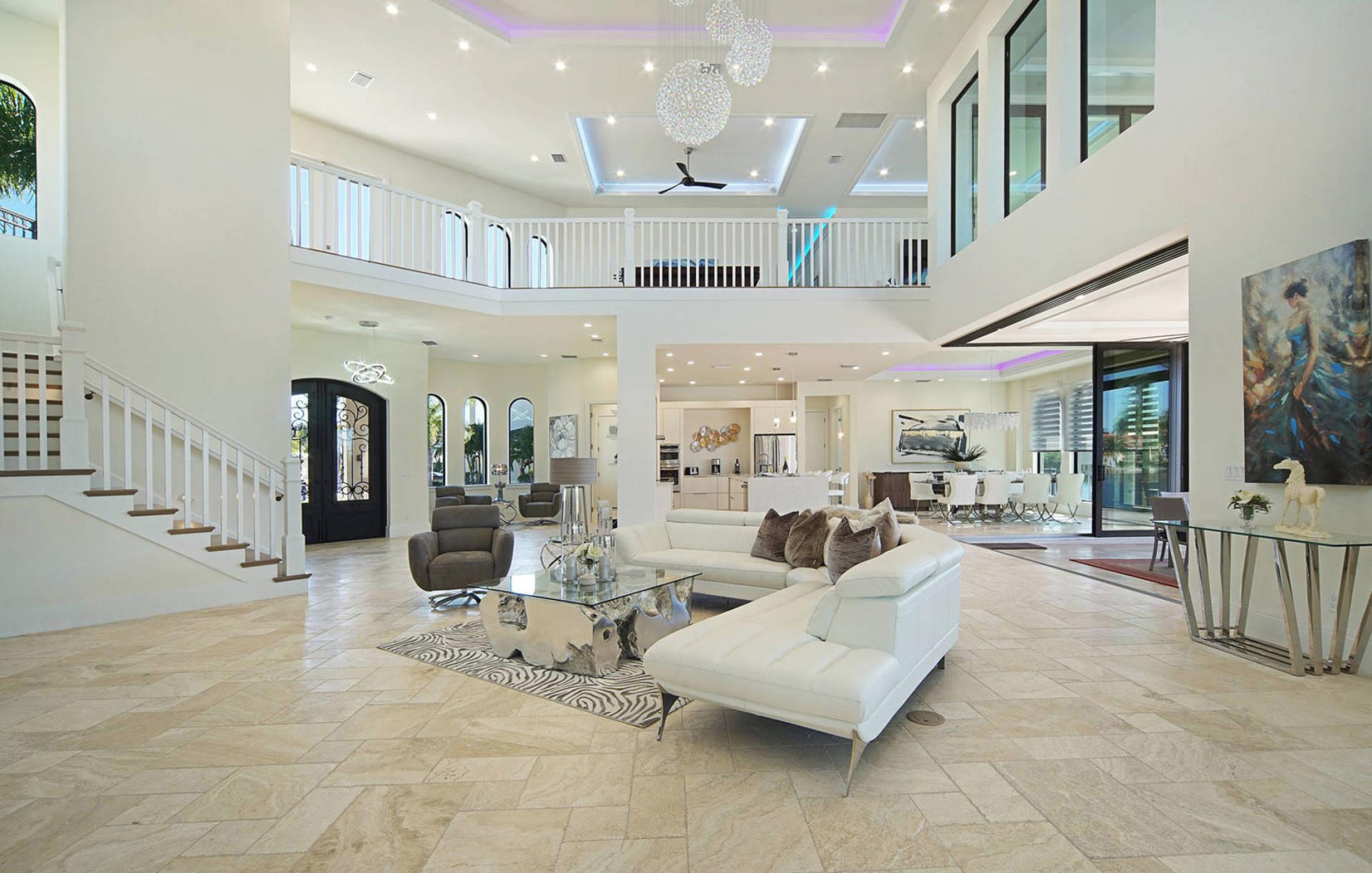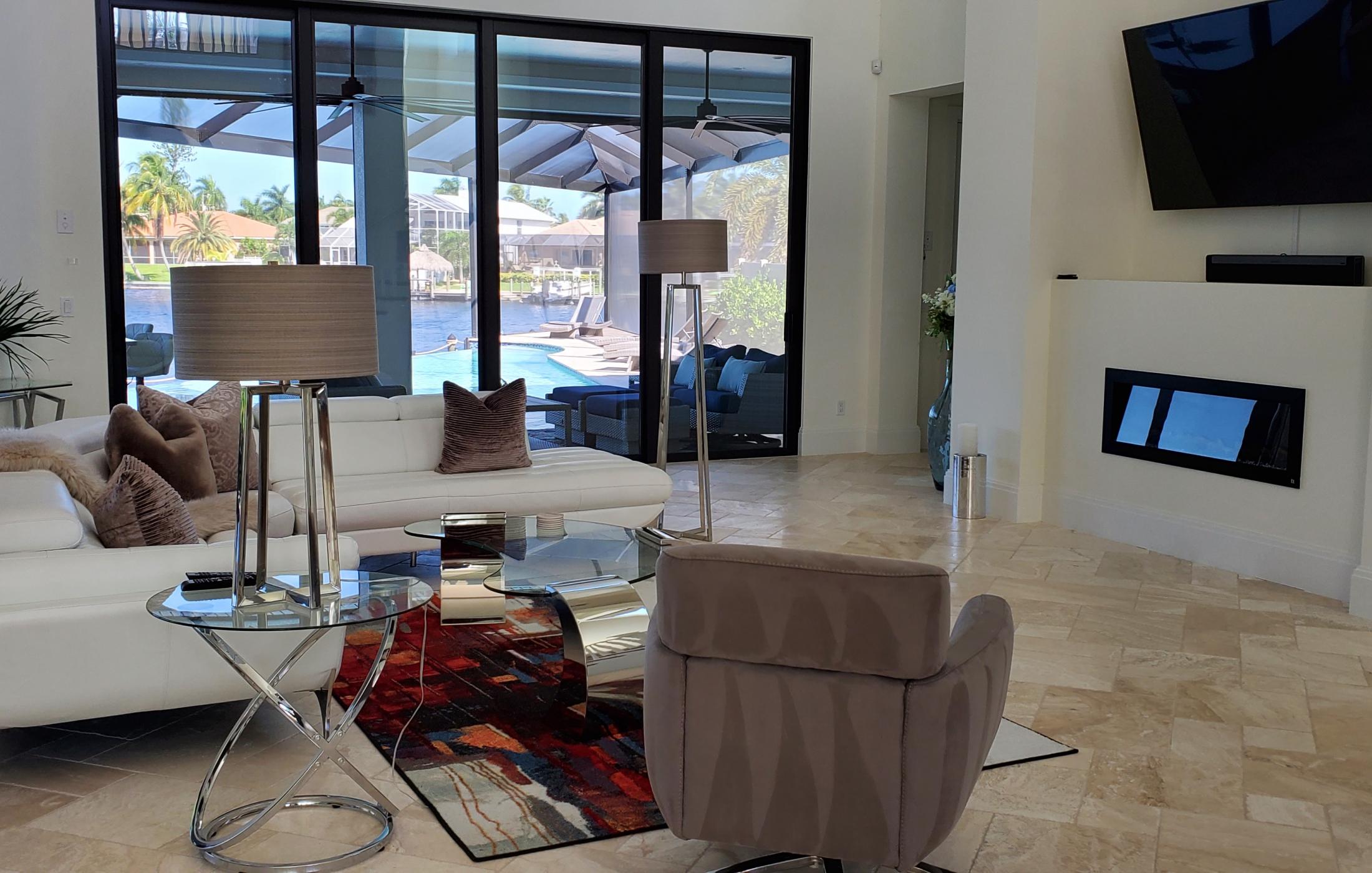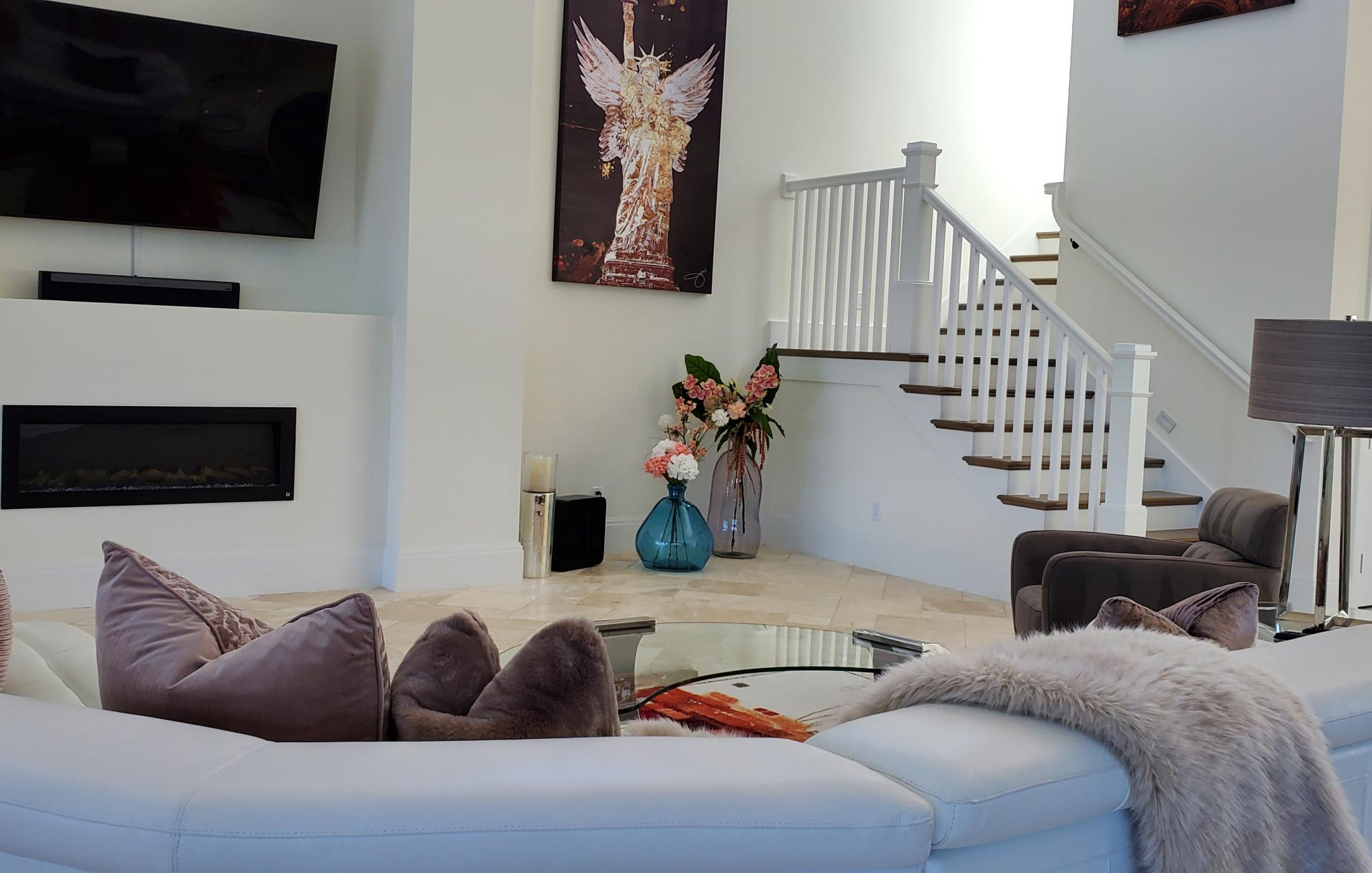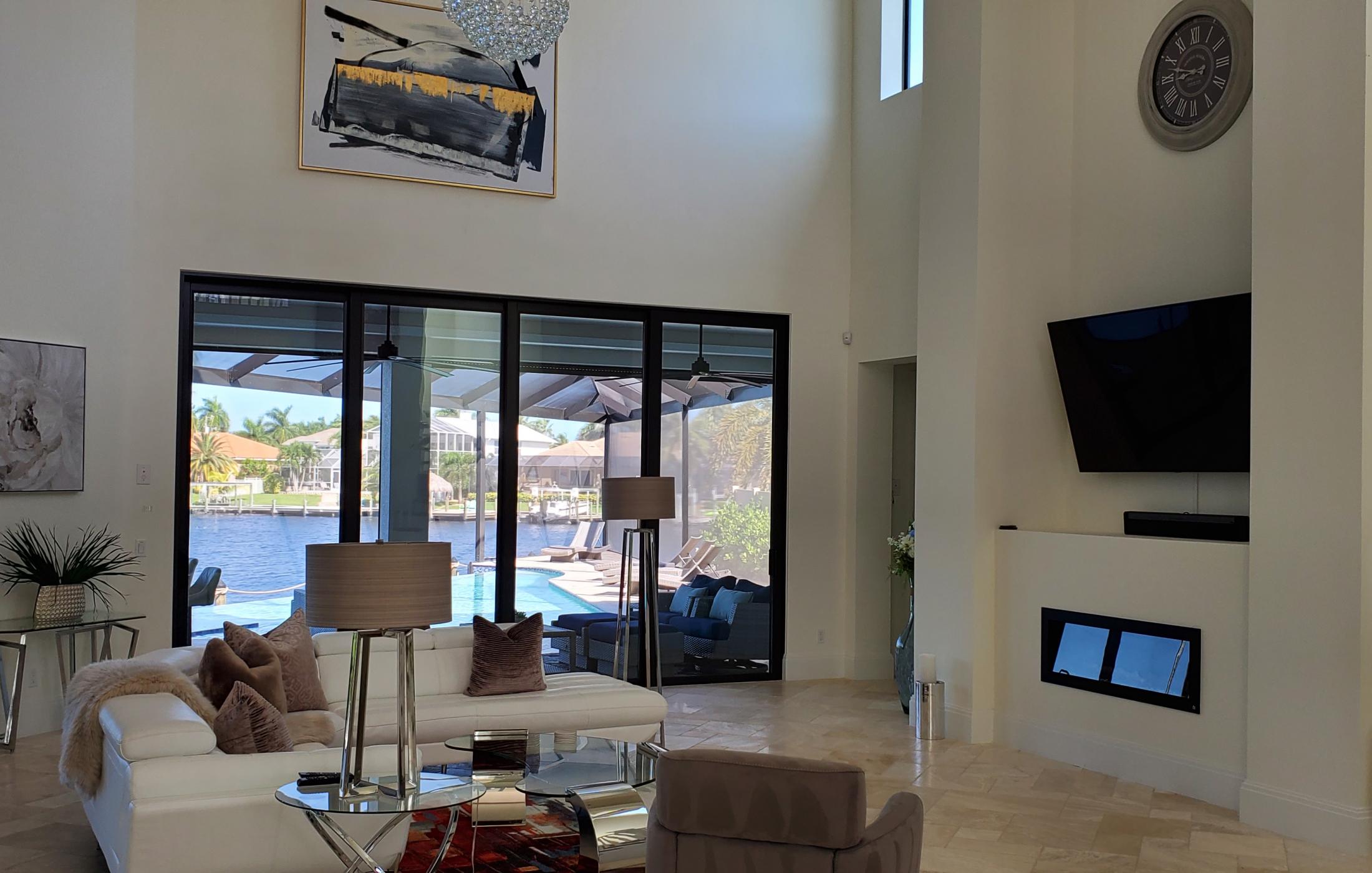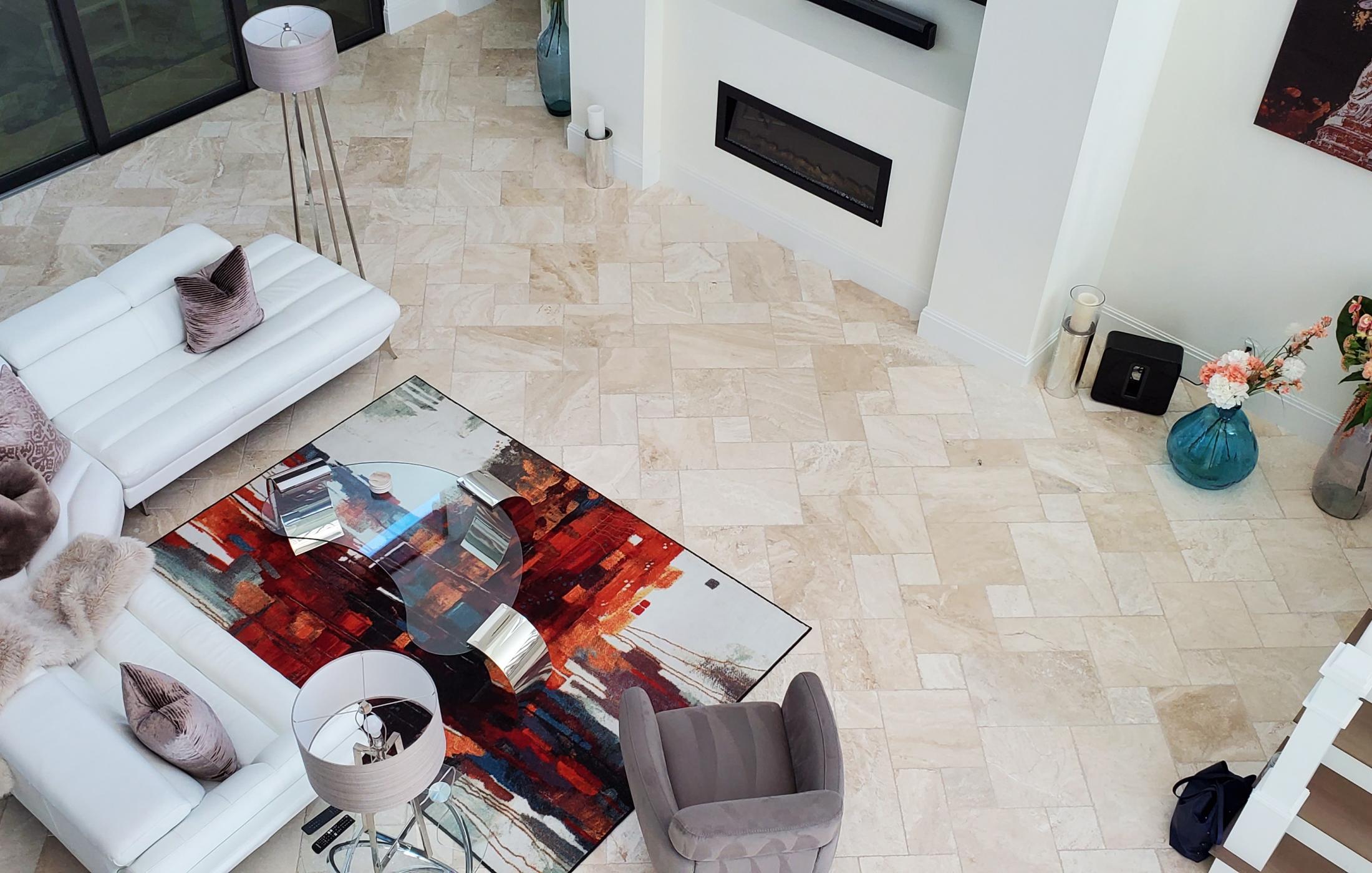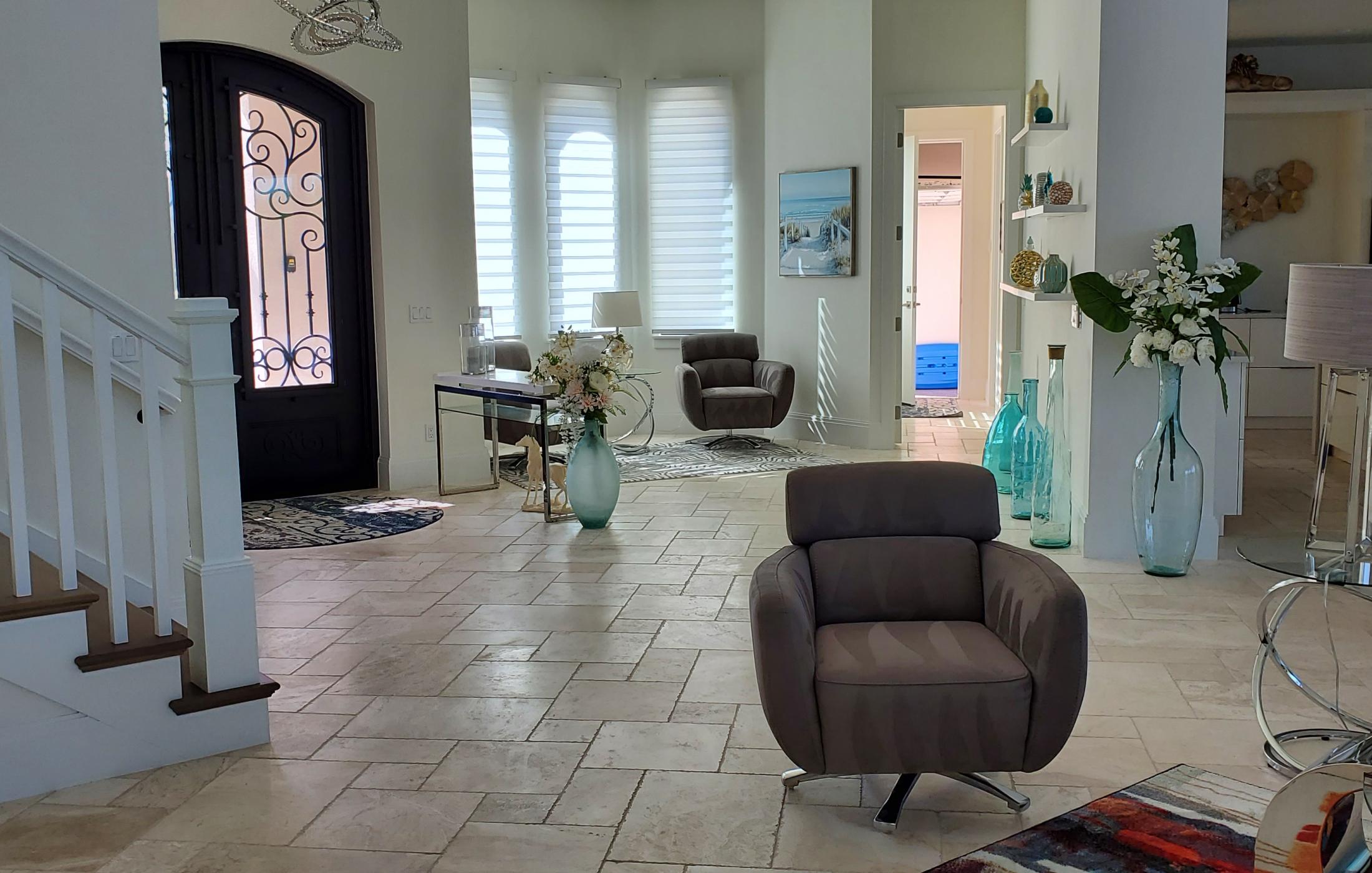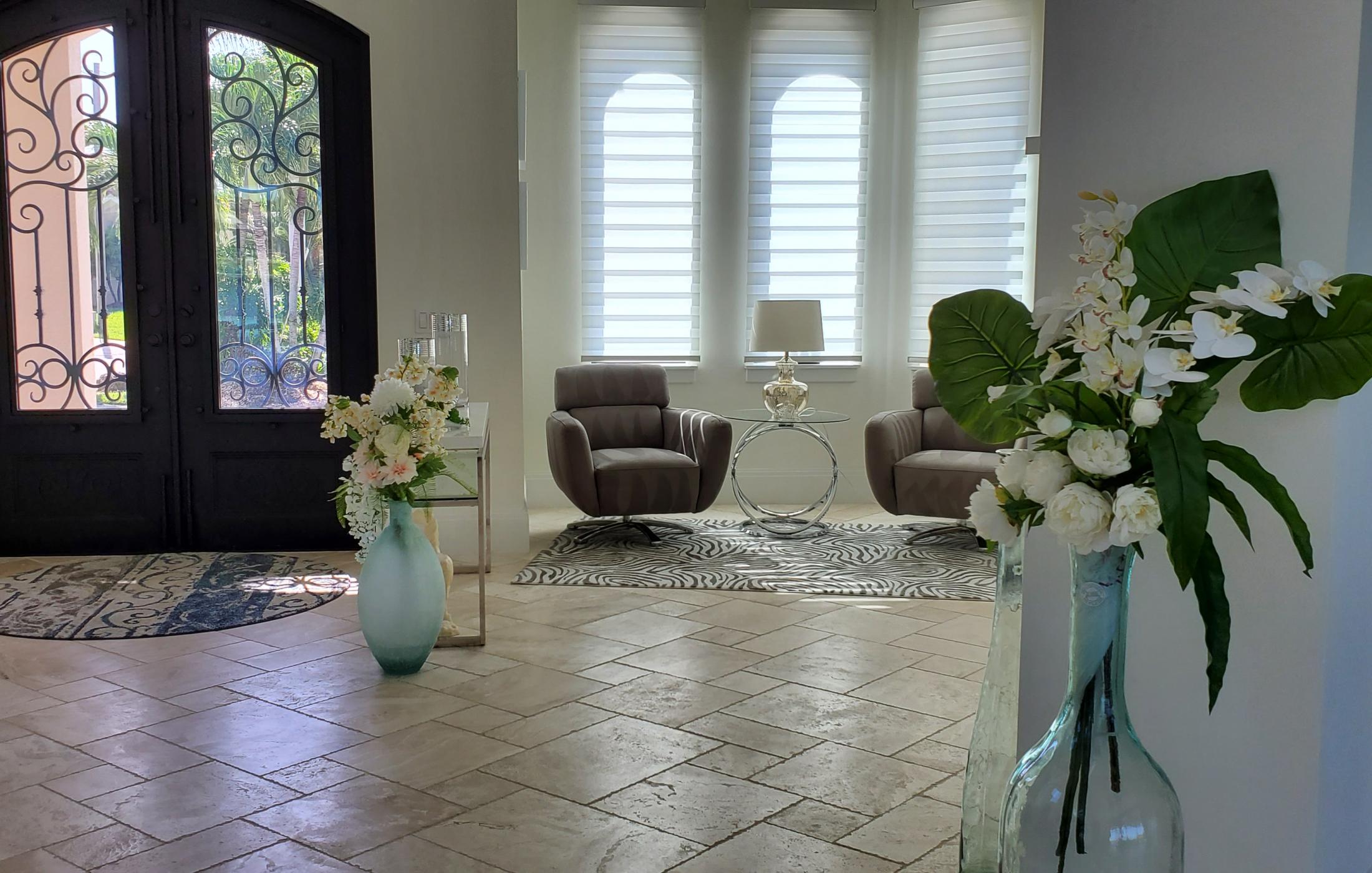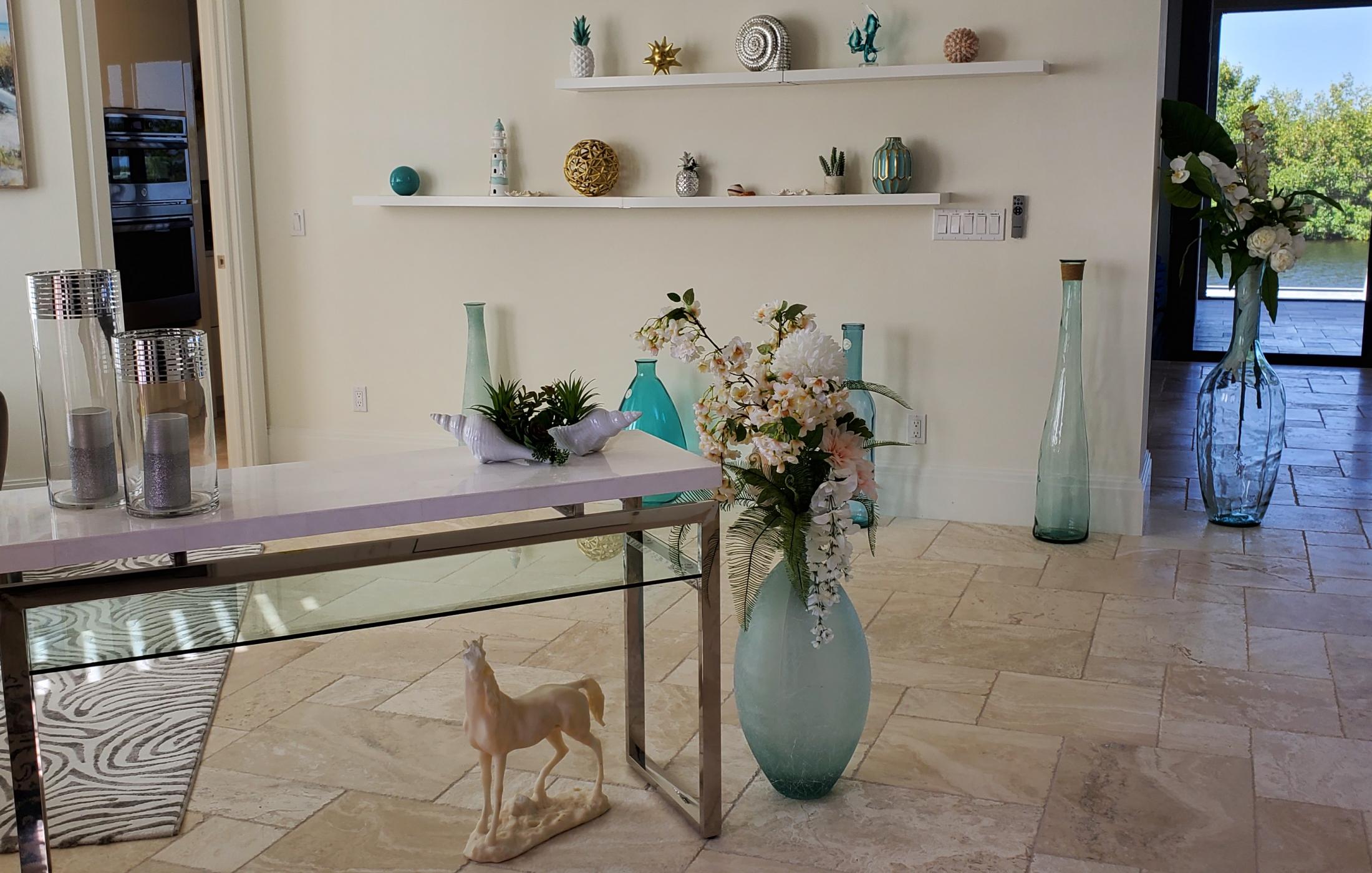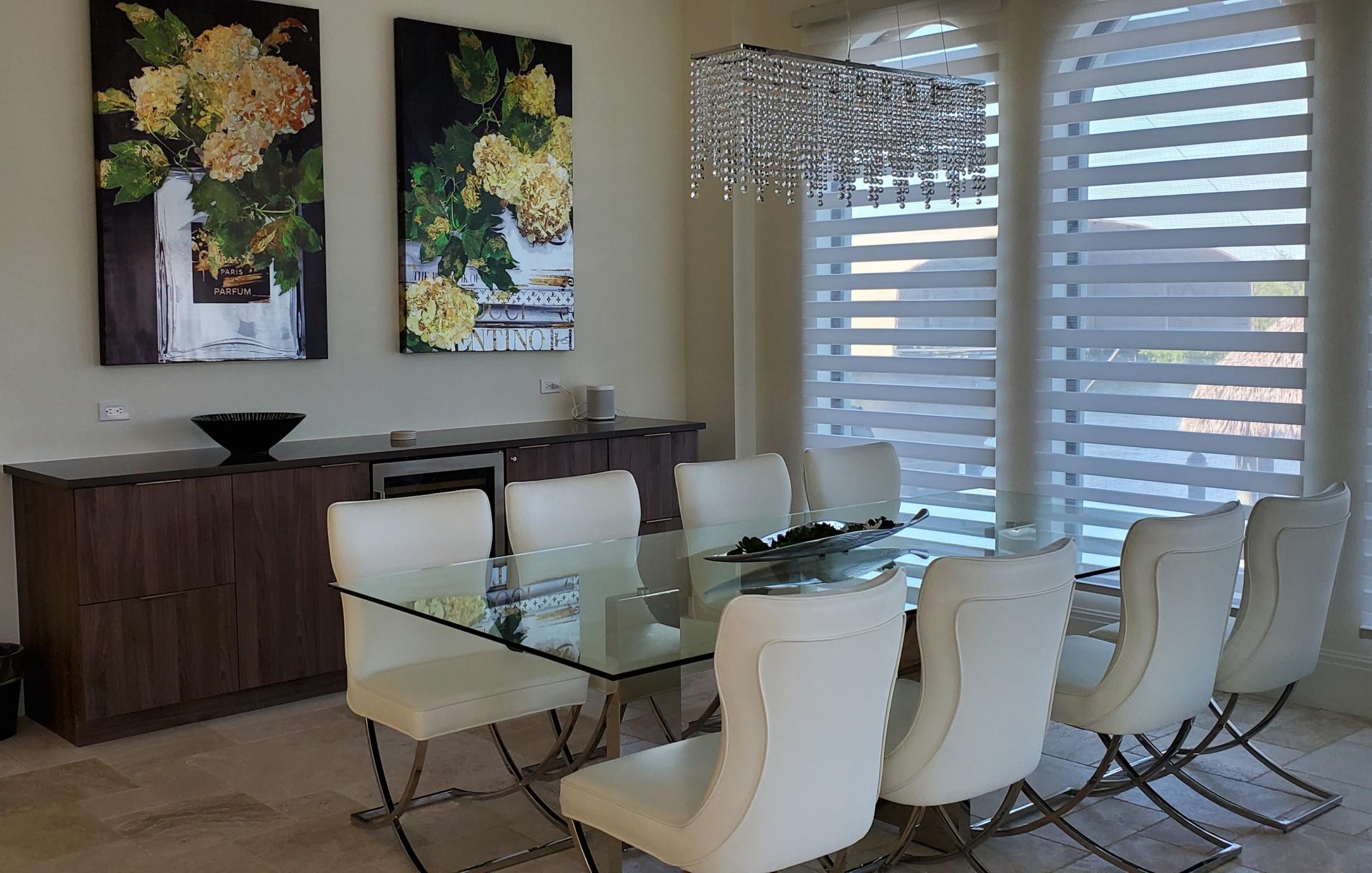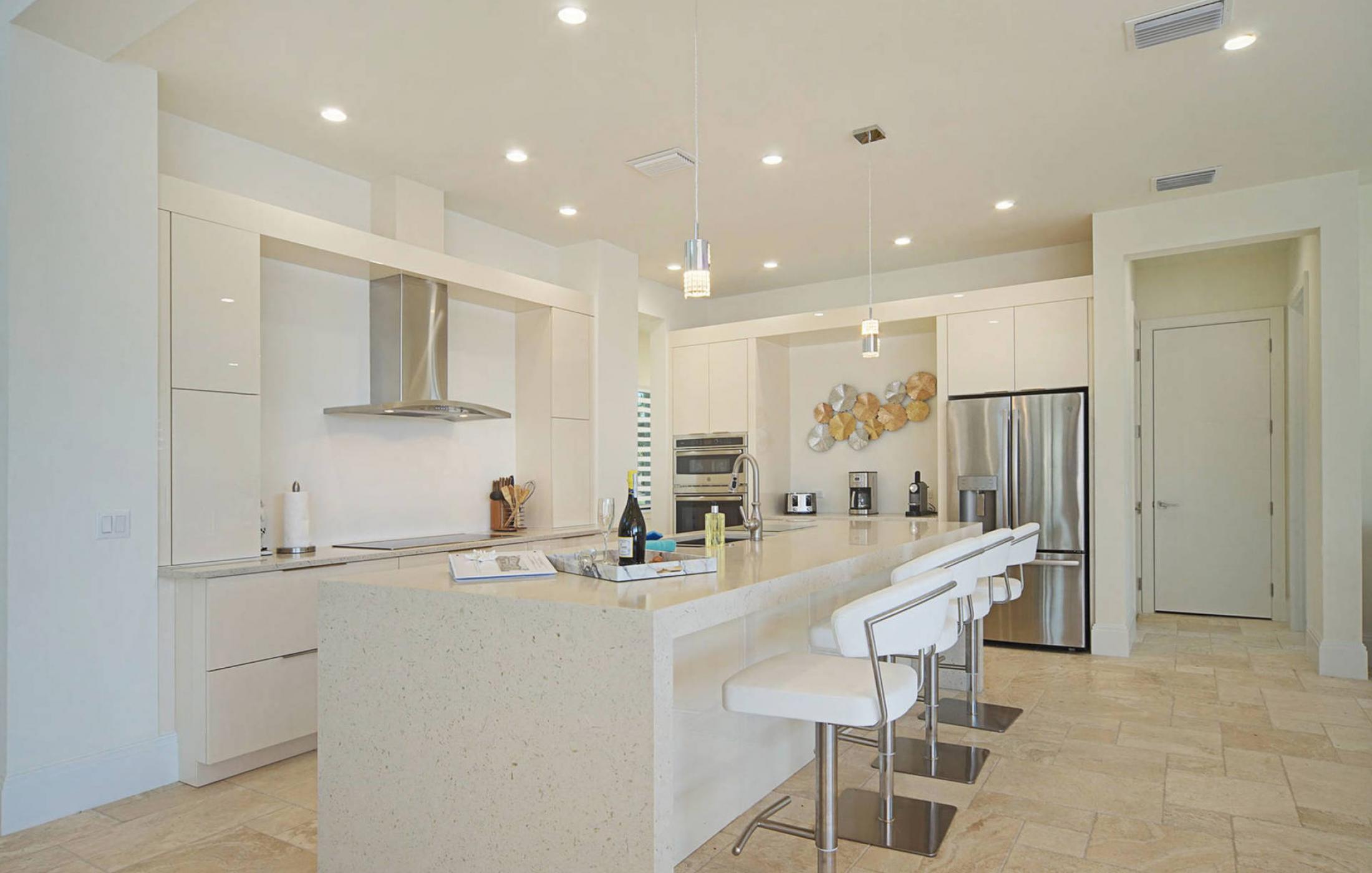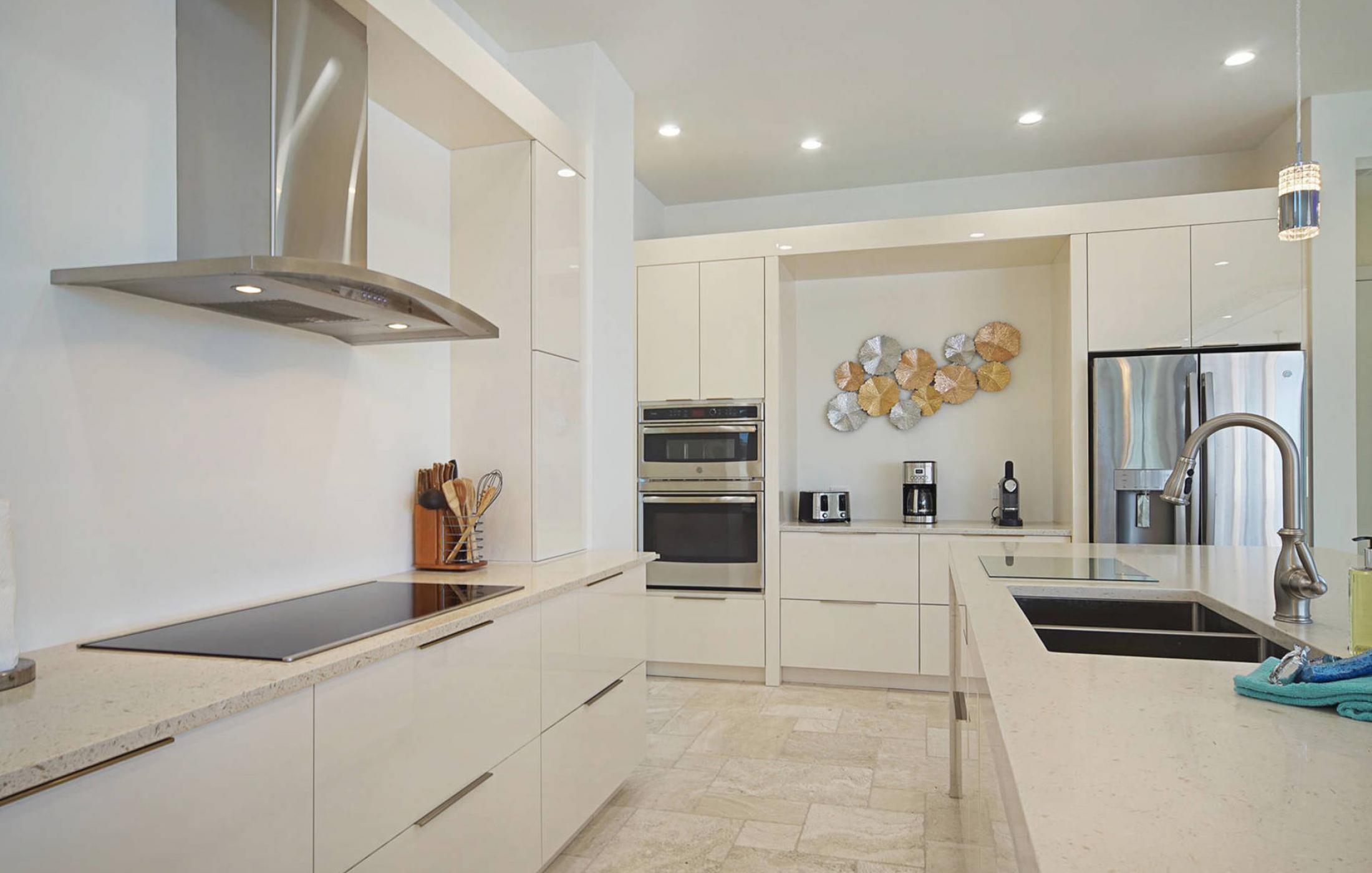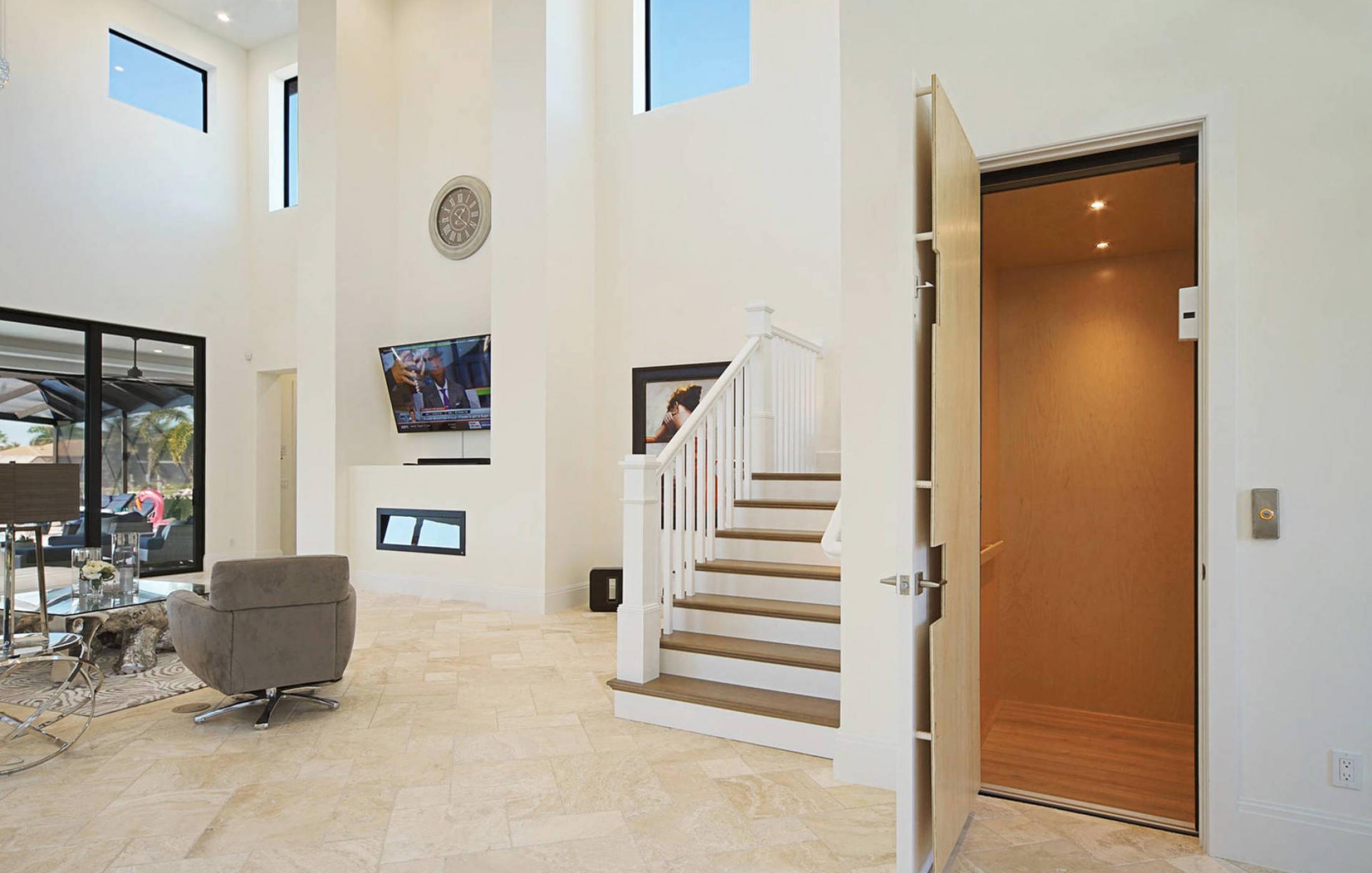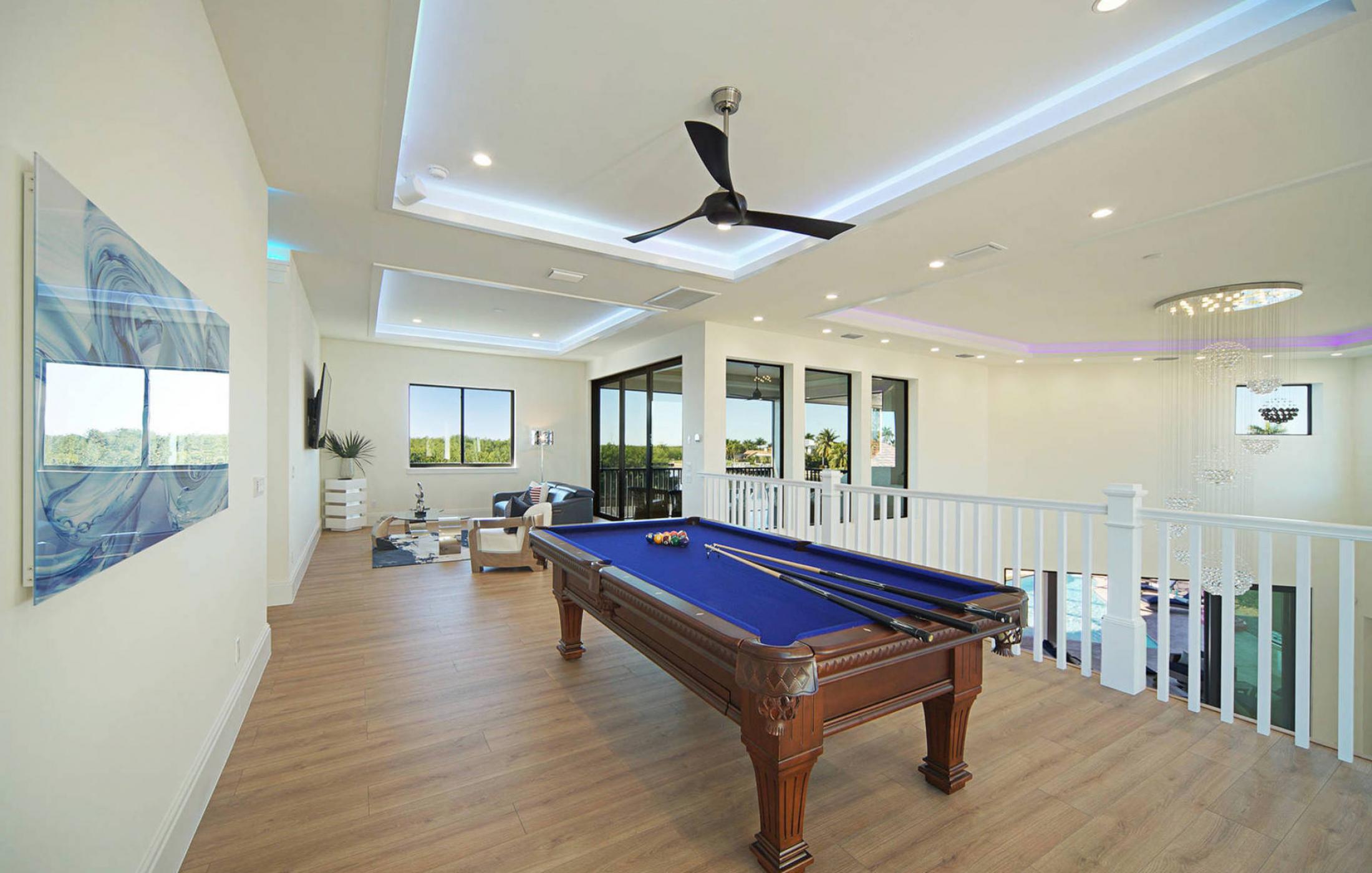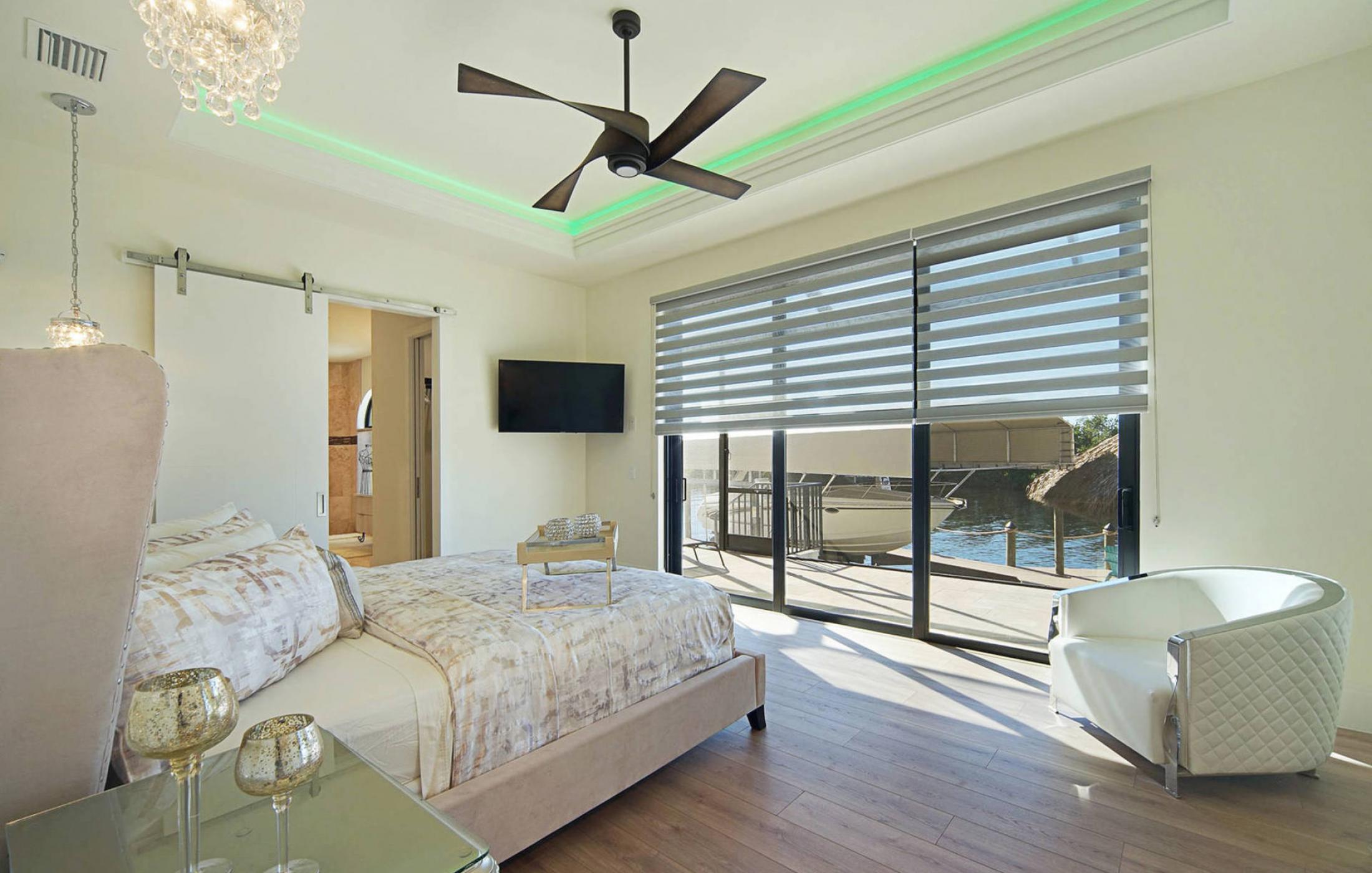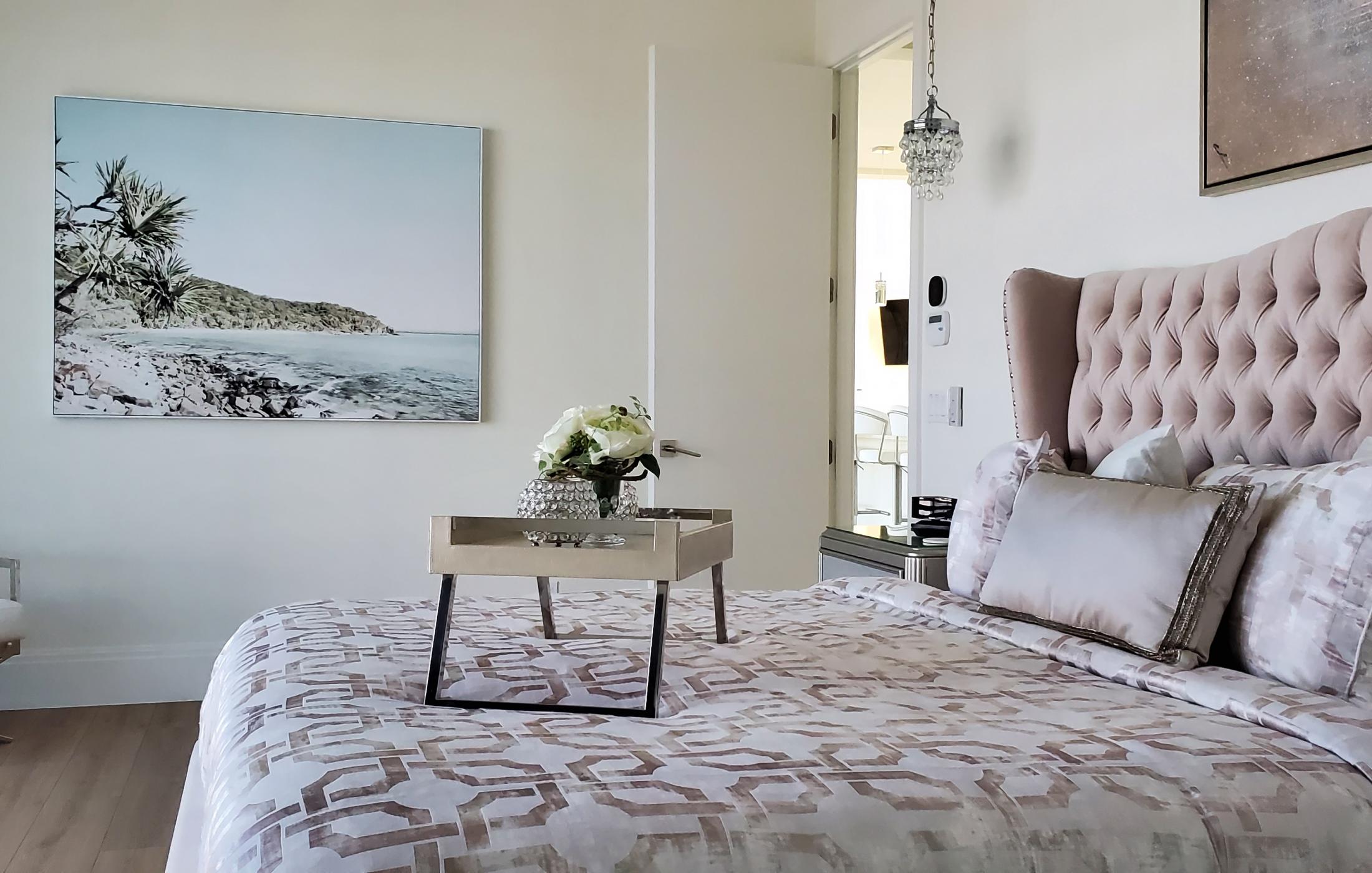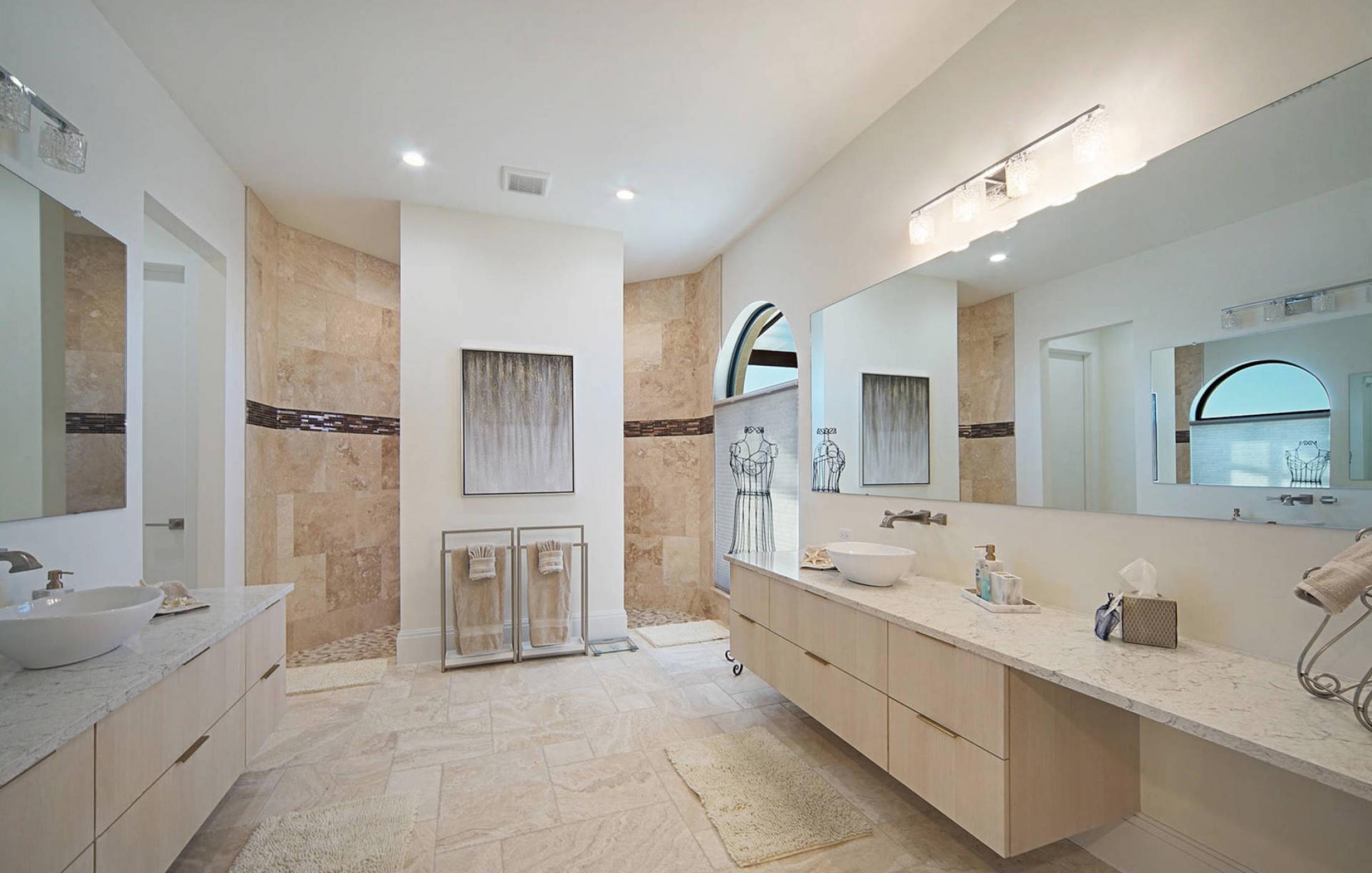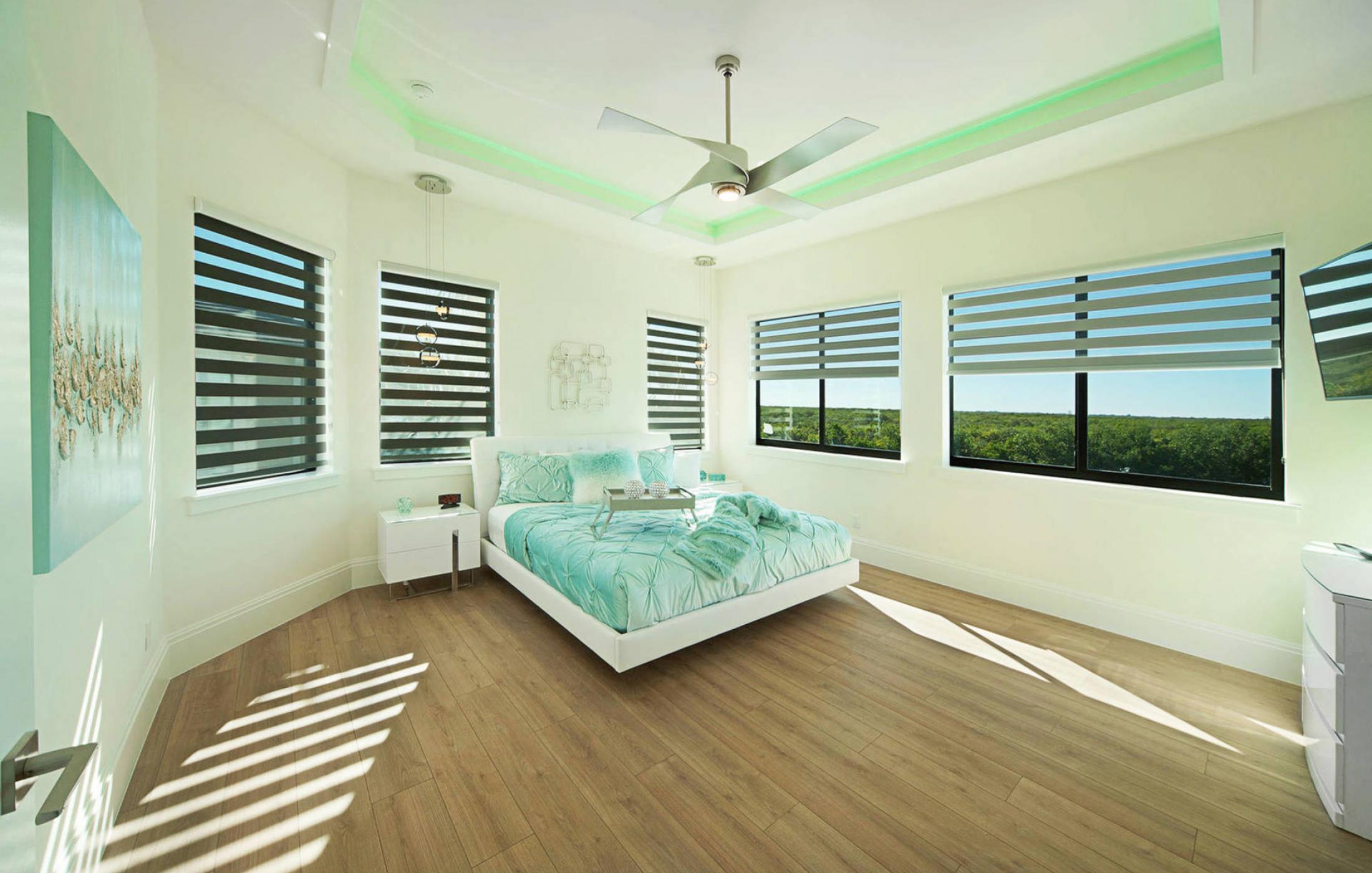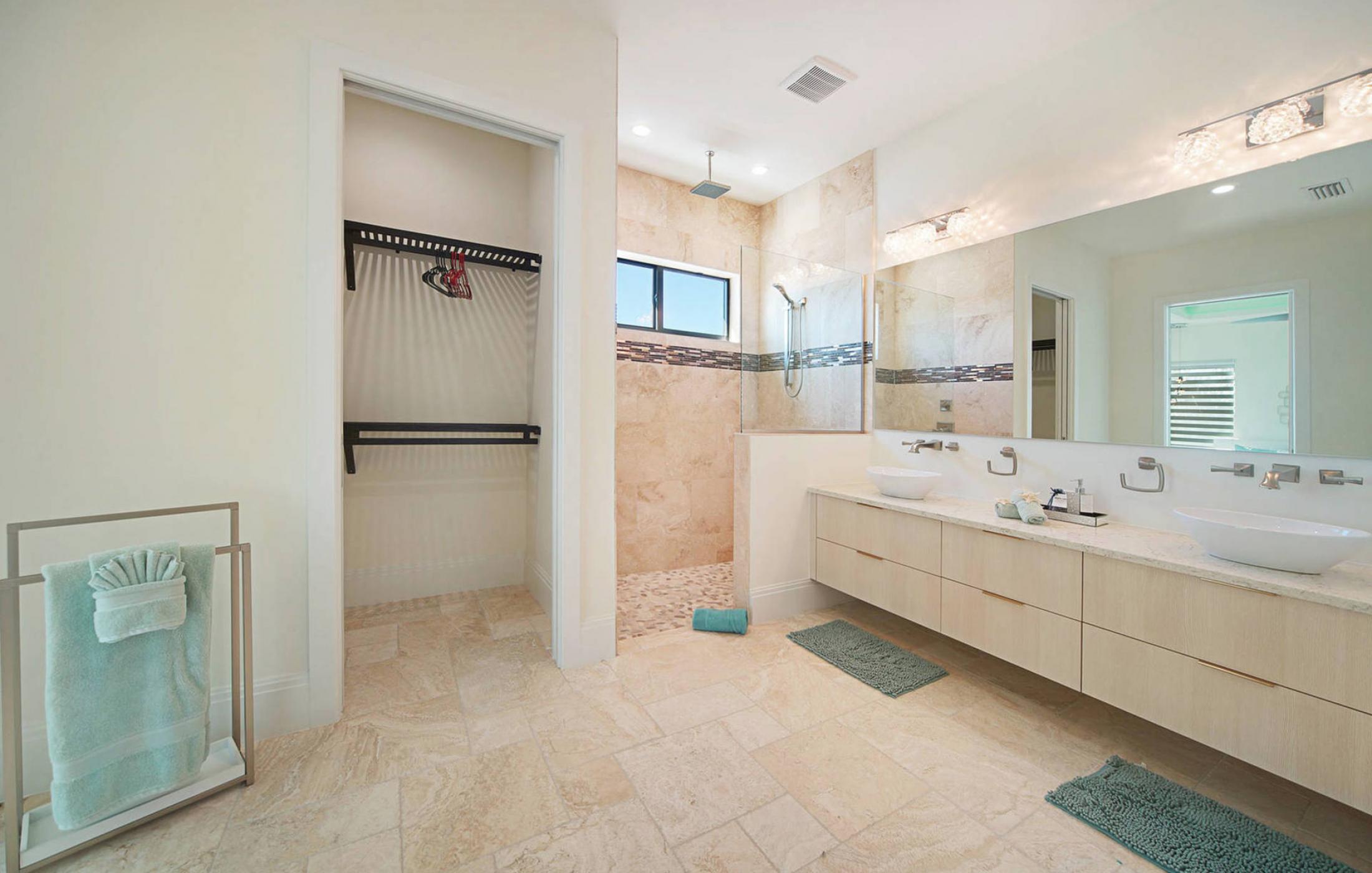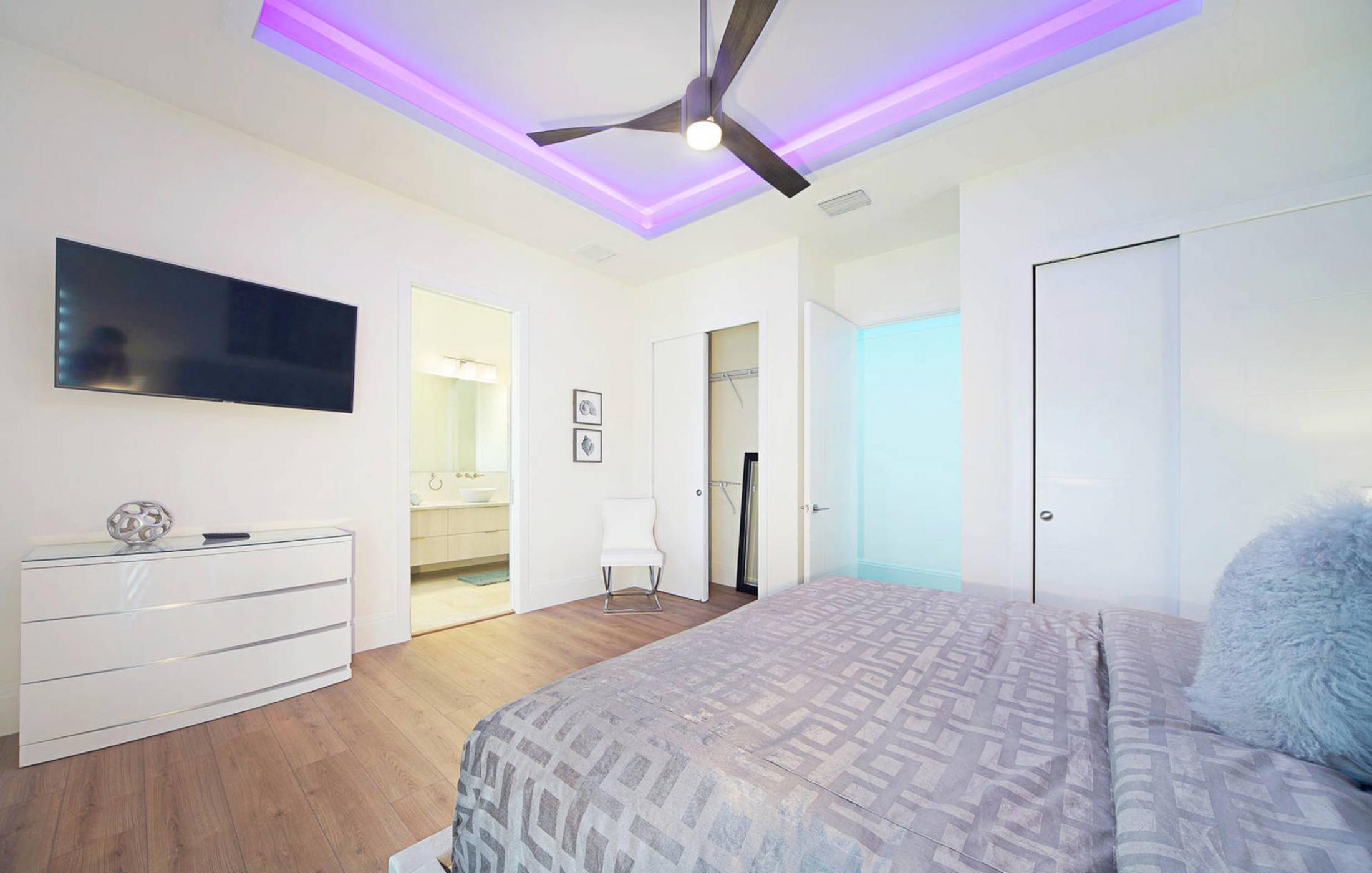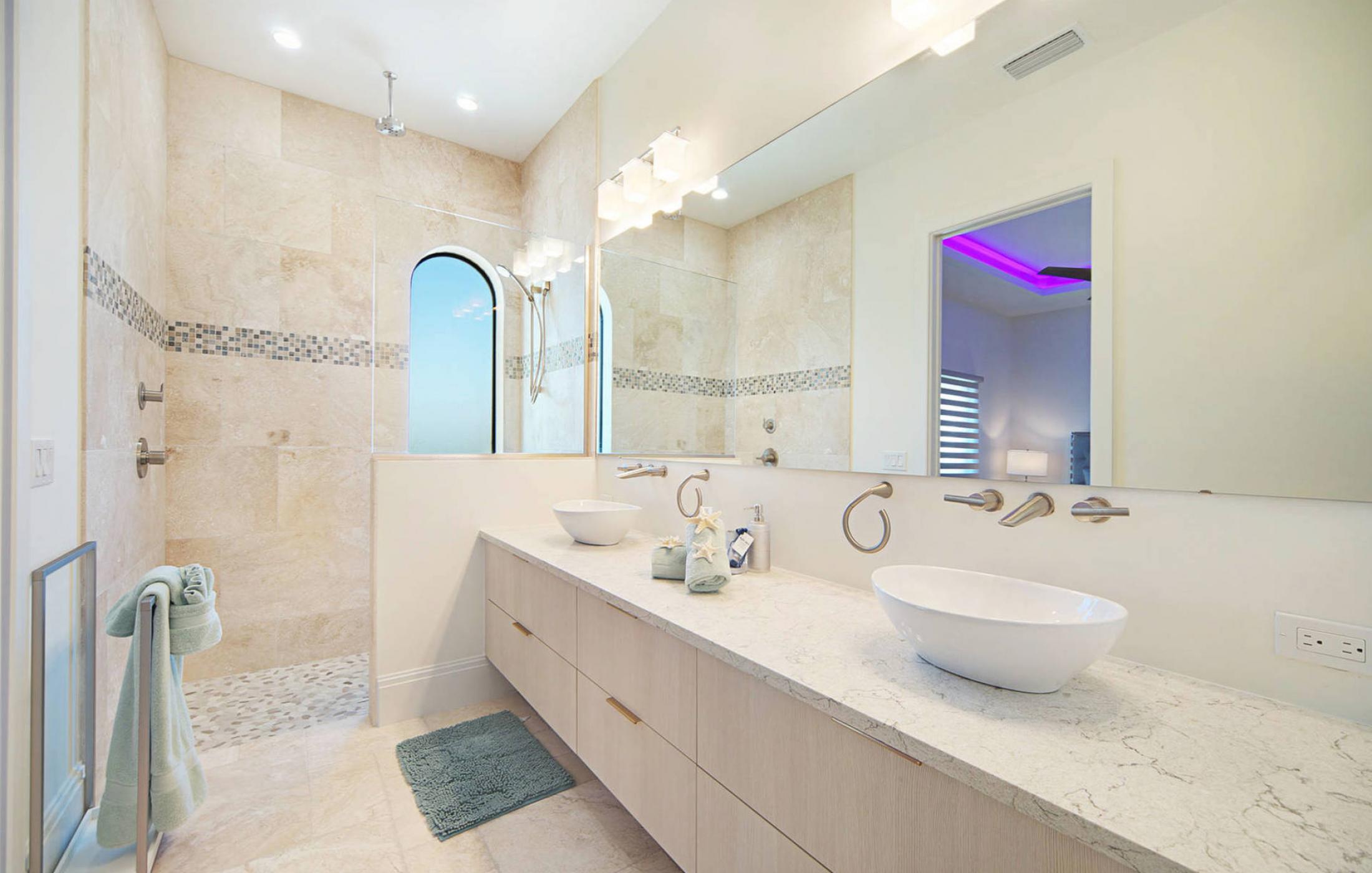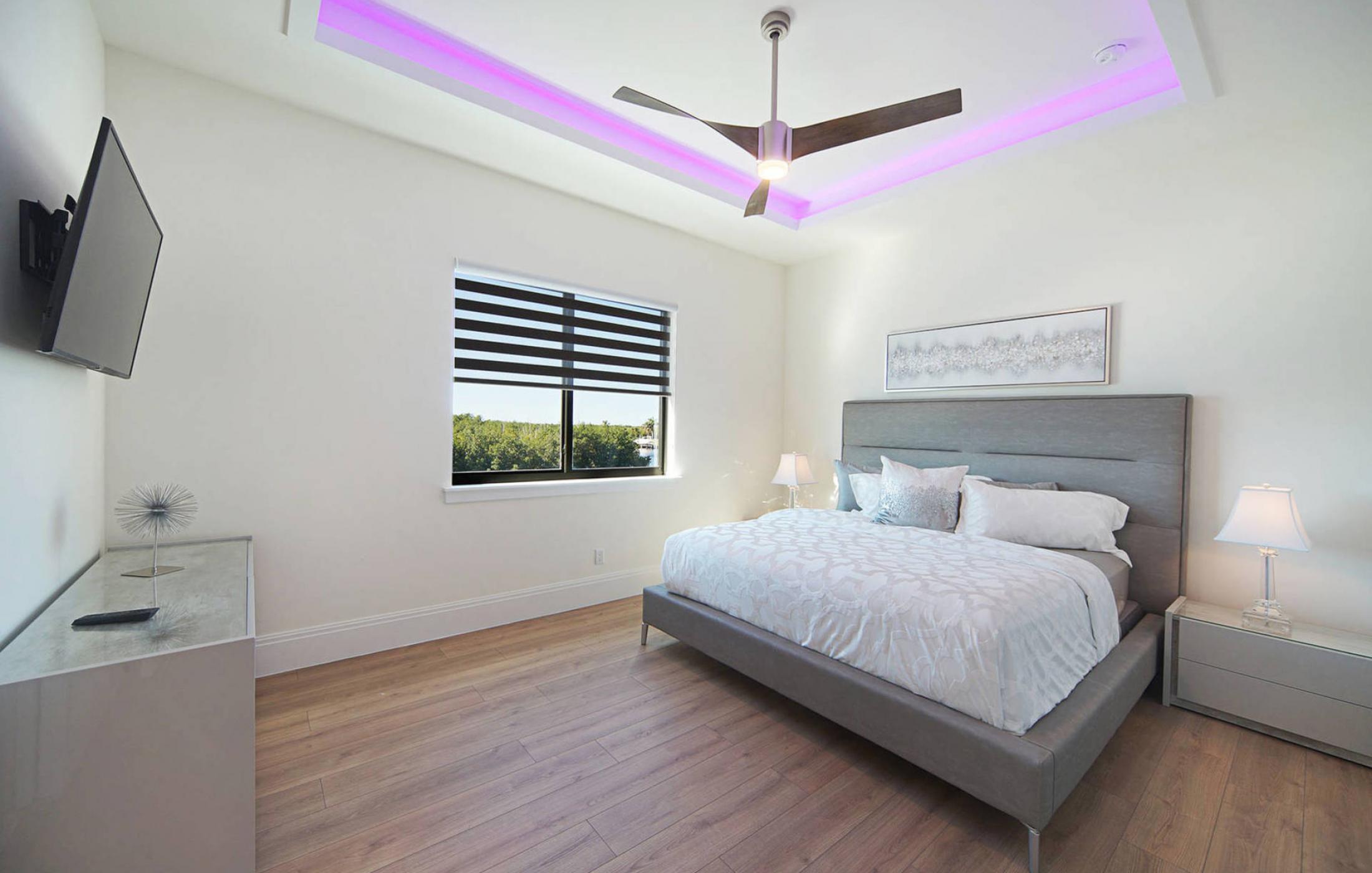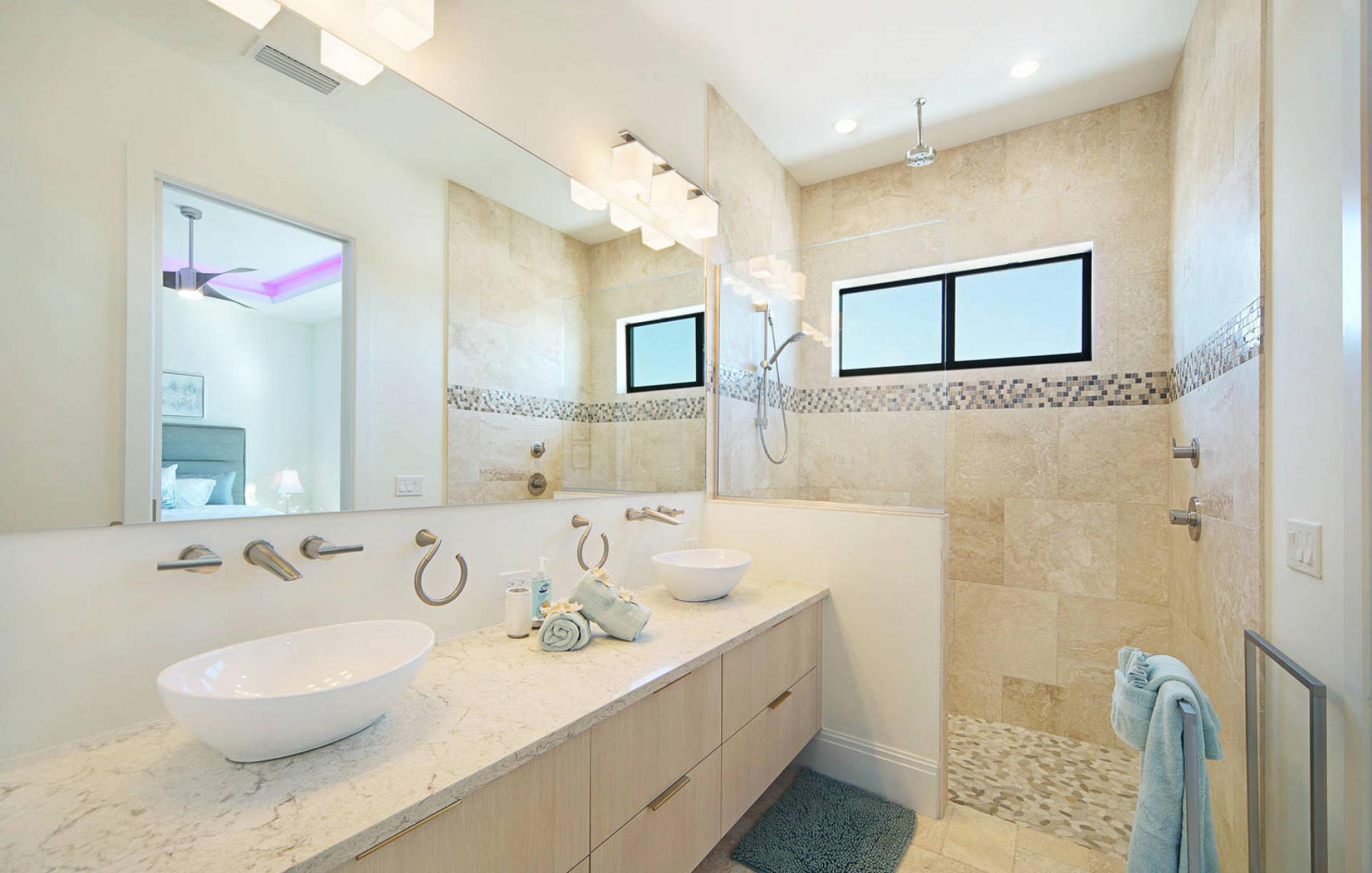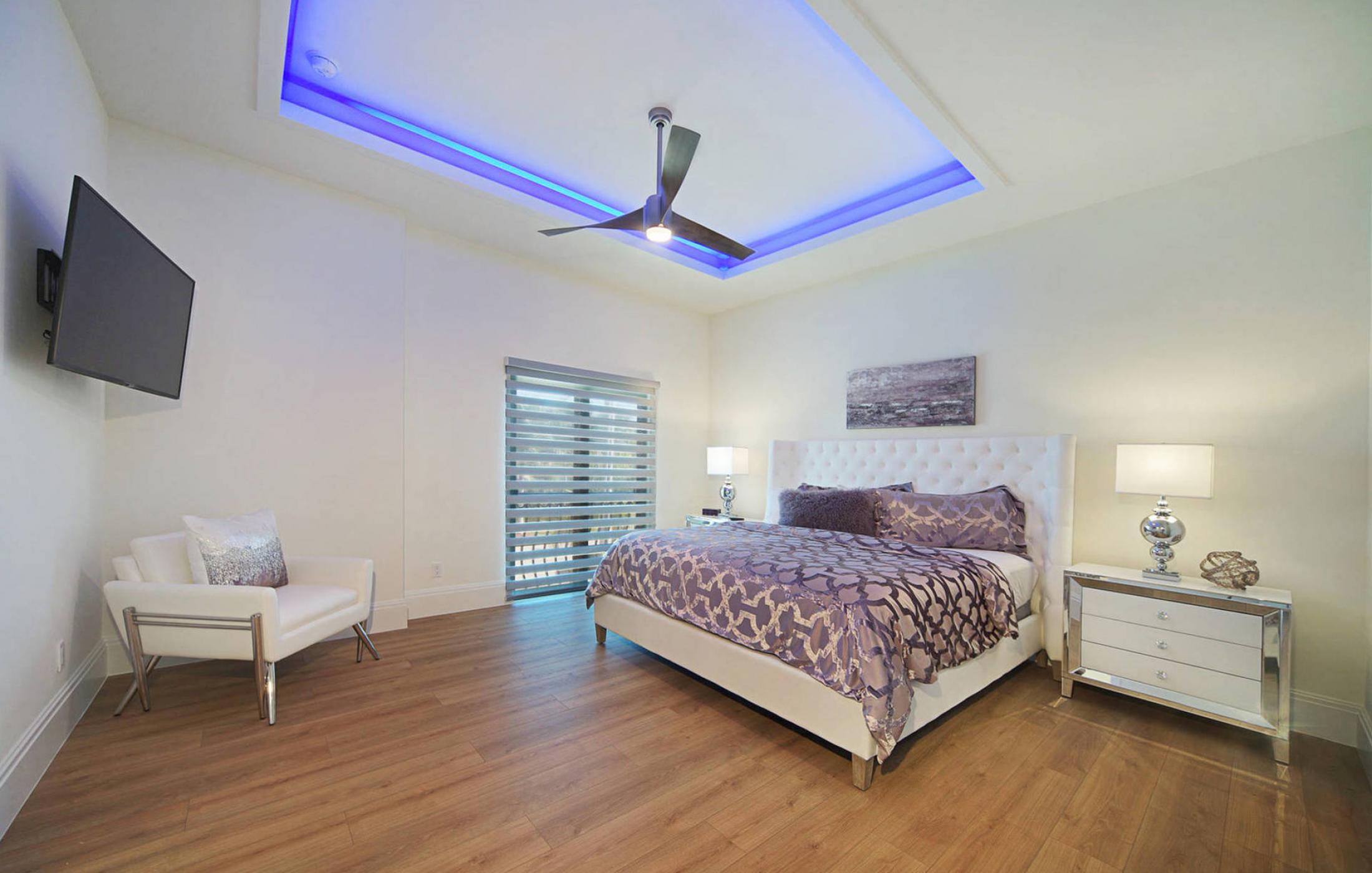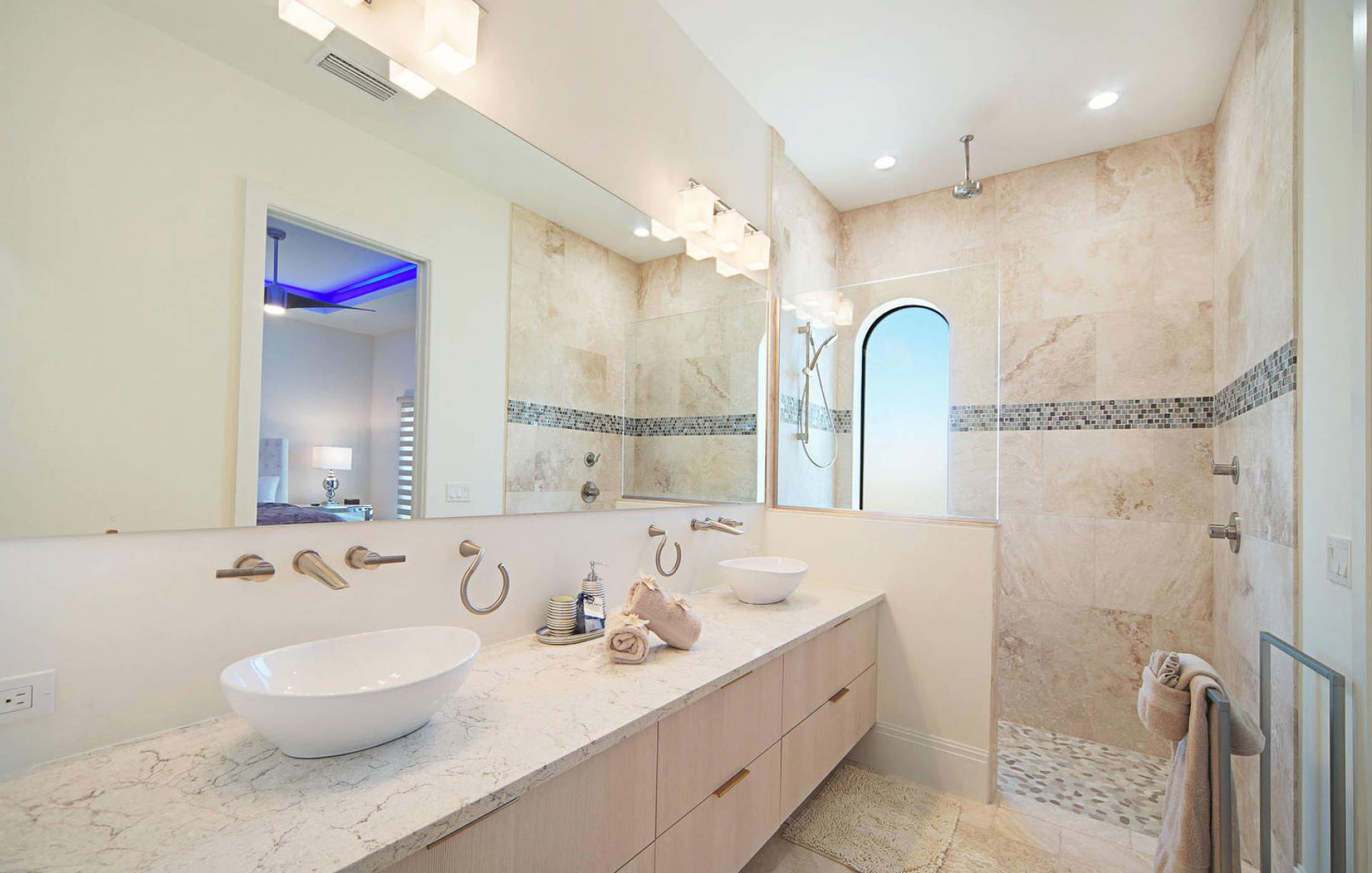 Inquiry
Please fill out the inquiry from and send it. We will send you an offer as soon as possible. Thank you.
= Available
= Confirmed
= Check In/Out
= Pending
December 2023
Su
Mo
Tu
We
Th
Fr
Sa
1
2
3
4
5
6
7
8
9
10
11
12
13
14
15
16
17
18
19
20
21
22
23
24
25
26
27
28
29
30
31
January 2024
Su
Mo
Tu
We
Th
Fr
Sa
1
2
3
4
5
6
7
8
9
10
11
12
13
14
15
16
17
18
19
20
21
22
23
24
25
26
27
28
29
30
31
February 2024
Su
Mo
Tu
We
Th
Fr
Sa
1
2
3
4
5
6
7
8
9
10
11
12
13
14
15
16
17
18
19
20
21
22
23
24
25
26
27
28
29
March 2024
Su
Mo
Tu
We
Th
Fr
Sa
1
2
3
4
5
6
7
8
9
10
11
12
13
14
15
16
17
18
19
20
21
22
23
24
25
26
27
28
29
30
31
April 2024
Su
Mo
Tu
We
Th
Fr
Sa
1
2
3
4
5
6
7
8
9
10
11
12
13
14
15
16
17
18
19
20
21
22
23
24
25
26
27
28
29
30
May 2024
Su
Mo
Tu
We
Th
Fr
Sa
1
2
3
4
5
6
7
8
9
10
11
12
13
14
15
16
17
18
19
20
21
22
23
24
25
26
27
28
29
30
31
People in this conversation
Booking calculator
Please adjust the number of days you want to stay. The minimum stay is 10
The minimum stay over Easter and Christmas is 14 days!
---
Pet fee (per pet + taxes)
---
Important! The calculator is just an estimate and will not provide information about availability, please contact us for availability and detailed pricing!